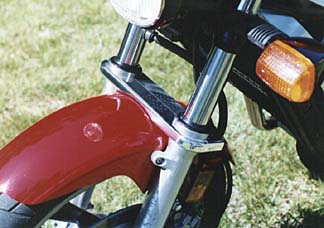 Aircraft quality billet aluminum
Computer Machined from 6061 T-6
The Italian made Givi 30 liter top case is a very high quality unit and a great value. It can be is installed or removed in seconds from its mounting base, is big enough to hold a helmet when you get to your destination, as well as lots of other goodies while on the way. It has a high quality 1/4 turn lockable latch design and can be bolted up to most any tubular sport rack in under one hour. It can also be used as a nice rear passenger back rest, and comes with the optional foam back rest pad.
Note! A tubular rear rack must already be installed to use this case. It will fit with the original stock seat or others, but no other back rests are compatible with the case, since they will restrict it from opening. If you happen own a Gen 2 Bandit 1200, or 1250 / FA model this case fits very nice with the Holeshot Sport Rack.
Polished to a mirror finish

Superbraces (Quick Bolt-On)

Reduces speed wobbles
Improves front tire wear
Reduces rain groove sensitivity
Improves low and high speed handling
Competition proven by world class racers

Description
Price
Honda, Kawasaki, Suzuki, Yamaha, Harley
(all patented)
$89.95 to $179.95

All orders plus shipping - Prices subject to change without notice