IMPORTANT: THIS IS LEGAL FOR OFF-ROAD CLOSE COURSE USE ONLY!
NOTE: These are a few tip photos of where to cut the pipe, heat sheild , and mid pipe install . These will be helpful along with the written instuctions you will receive with your Holeshot slip-on. Feel free to call Dale, after 3:30 pacific time, if you have any questions. (831)-761-2808
775-463-5394
1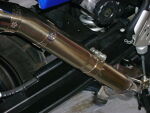 Make a mark as shown approximently 1" past the weld bead of the header collector. Cut the muffler clear off using a metall cutting saw.
2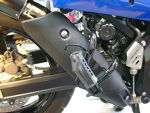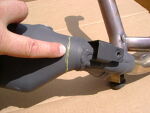 The left photo shows your header now ready to box and ship to us, via UPS for the conversion fabrication. The other photo shows the approximate mid pipe, mounting clamp and heat shield clamp location.
3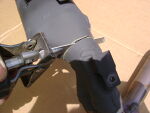 Install the heat shield center bolt using the provided thick flat washer and nylock nut as shown, this bolt is now for cosmetic purposes only. Install the top bolt using the provided 1/4" aluminium spacer. Install heat shield by starting the lower bolt first, loosen the top shield mounting clamp with the welded nut, to align with the top mounting bolt, then start the bolt and lightly snug. Rotate in proper position as shown, tighten upper mounting clamp, then shield mounting bolts securely.