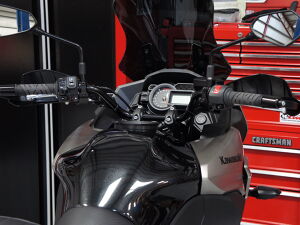 Holeshot Comfort Touring Bar Kit
After several months of testing, Dale's new Versys 1000 Comfort Touring Bar kit it now ready to transform your bike. Dale felt the stock bars were too wide, and the bend is way too straight. This causes upper shoulder and back pain and is also very uncomfortable on your wrists. Bar risers may raise the bars, but do not address the bend or sweep!
The Holeshot Comfort Bars fix all that by being about 1-1/4" taller, with a much nicer sweep. This takes the kink and load off of your wrists, back and shoulders, by getting the bars closer to you. Custom machined split clamps just for the V-1000 are included in the kit to mount up the Holeshot bars.
They fit like a glove with all the stock cables and lines, other than taking one rubber grommet loose on the front upper brake line.
The Holeshot Comfort Touring Bars are CNC bent and made from DOM American 7/8" steel tubing, then powder coated in a 60% gloss satin black finish. The slightly thicker wall ID makes the bars strong with little flex, will fit most after market bar ends or the Throttlemeister, but must be slightly opened up inside to make a perfect fit. This is normally done with a die grinder or dremel tool. The customer must also drill the holes for the switches once you have the bars installed.
Dale nips the tip off of the left horn button switch, leaving only the the throttle side to drill one hole.
Dale now has a solution to install the factory hand guards with the Holeshot Touring Bars. His new Holeshot Bar End kit allows you to run the included bar ends without the guards, or install the original bar ends along with the factory guards.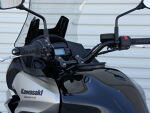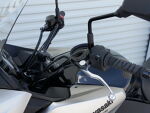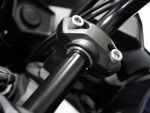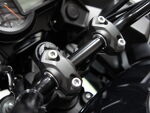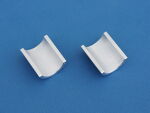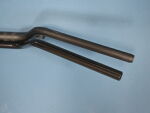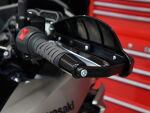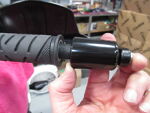 Holeshot Comfort Touring Bar Kit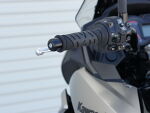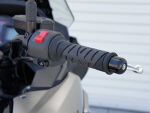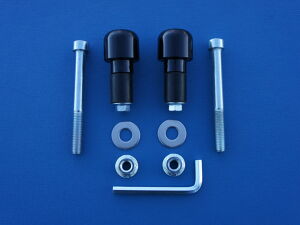 The Holeshot bar end kit is a must to mount the factory hand guards
Dale's Holeshot Comfort Touring Bar Kit
Dale's Holeshot Bar End Kit
Holeshot Comfort Touring Bar Kit for Kawasaki Versys 1000
| | | |
| --- | --- | --- |
| Description | Part # | Price |
| Comfort Touring Bar Kit | V-1000-TBK | $169.00 / each |
| Holeshot Bar End Kit | V-HBEK | $26.95 / each |
All orders plus shipping - Prices subject to change without notice
These are a non-returnable item!
Superbike Pro Gel Grips

The Superbike Pro Gel Grips feature a gel system design with an exclusive dual formula for greater comfort and much less vibrations, to help eliminate numbing of the hands. The Street grips are 120 mm long with open ends to fit with stock or after market bar end weights.These are really nice grips that make a world of difference, and are still not too large in diameter like many other comfort type grips on the market. They come in a gray and black or all black as shown.

NOTE: Some throttle sleeves may have a plastic ring attached that will need to be trimmed off to install new grips. Grips should always be glued in place.

| | | |
| --- | --- | --- |
| Description | Part # | Price |
| All Black | 17-7932 | $16.79 / set |

All orders plus shipping - Prices subject to change without notice