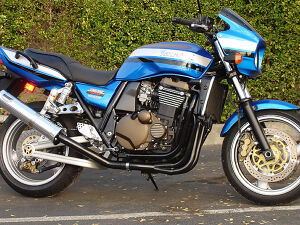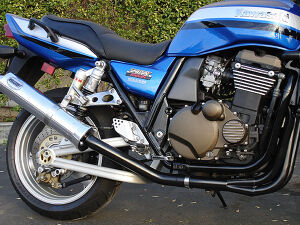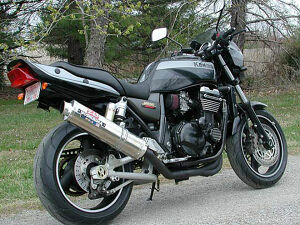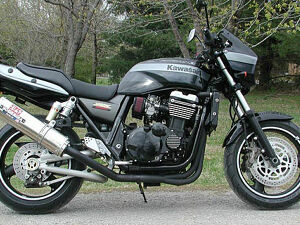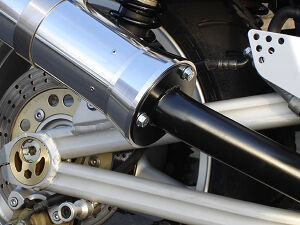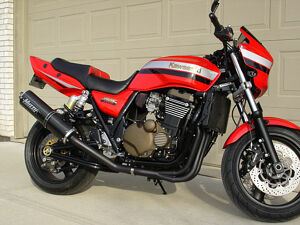 Dale has designed a slick ZRX Holeshot 4-1 header upgrade kit. This allows any ZRX-1100 or 1200 owner to install the Holeshot Header System to most current slip-on available. The Header upgrade includes the Holeshot hand made front header section, a new mid pipe with matching flange for the 1100 or 1200 bolt pattern, stainless clamps and hardware. The Holeshot header makes big power and torque gains, has total oil and filter access, more cornering clearance and is much lighter than the original factory header. One of Dale's matching jet kits are also recommended when running our system.
Click here for ZRX-1100 Dyno charts
Click here for ZRX-1200 Dyno charts
Note! Your current brand X slip-on must have a sliding outer muffler clamp to install our Holeshot Header upgrade system. A new style muffler clamp is included in the kit for those who own a ZRX-1100 Holeshot slip-on and second generation ZRX-1200 Holeshot slip-on.
The Holeshot header coating comes with a 1 year anti rust warranty to the original purchaser.
Note: The ZRX Front Fender Extender must be purchased for us to honor our header coating warranty.
Click here
to see Front Fender Extender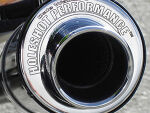 New for 2006 is the super clean, laser etched Holeshot Performance muffler end cap.
Note! The silver and black Holeshot logo plate will not be on the muffler unless requested. It is now an option, which can be installed for an additional $5.00 per muffler.
Note! Permatex Ultra Copper High Temp Silicone is required when installing our exhaust systems. See Below.
See Below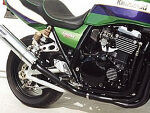 ZRX-1100 Holeshot 4-1 header system upgrade shown combined with Holeshot slip-on.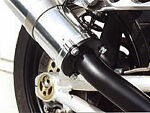 Dale's ZRX-1100 4-1 Header system upgrade with flanged elbow pipe allows the full system to be installed with a Holeshot slip-on or any other brand.
Hi Dale,

I have your system on my 2000 ZRX 1100 the sound is AWESOME, and it looks GREAT. to date i have Wiseco 1109 big bore kit, Holeshot stage 2 with K&N pods, Muzzys cams and a 50 shot of nitrous from NOS.

It makes 138.7hp 86.64tq on motor 182.1hp 158.3tq on the bottle

Thanks for a GREAT product and excellent service and support, looking forward to the new MEGAPHONE system that is in the works
Jimmy
ZRX Holeshot Header Upgrade Kits
| | | |
| --- | --- | --- |
| Description | Part # | Price |
| ZRX-1100 with Holeshot slip-on | ZRX11-HHUP | $609.00 / each |
| ZRX-1100 with brand X slip-on | ZRX11-HUP | $609.00 / each |
| ZRX-1200 with First Generation Holeshot or brand X slip-on | ZRX12- HUP1 | $609.00 / each |
| ZRX-1200 with Second Generation Holeshot slip-on | ZRX12- HUP2 | $609.00 / each |
All orders plus shipping - Prices subject to change without notice
Valco All-In-One High-Temp Silicone

Valco All-In-One High Temp Black Silicone is ideal for exhaust system slip fits during installation. It's one of the most advanced sealers available, is resistant to extreme temperatures up to 600 degrees, and can be used in non high temp applications as well. This product is a necessity to use if you are installing our Holeshot slip-on or complete header system.

| | | |
| --- | --- | --- |
| Description | Part # | Price |
| High-Temp Silicone | V-HTS | $7.50 / each |

All orders plus shipping - Prices subject to change without notice
Magic Mix

Keep your new Holeshot exhaust looking like new!

Magic Mix is known as the lazy man's polish and for a good reason. It's absolutely the best and easiest to use metal polish we've ever tested. It will keep your new Holeshot Slip-on or complete system looking new forever.

It works fantastic on aluminum, stainless, chrome and our coated slip-ons or full header system. We use it daily in our workshop during final assembly, as well as, on all our personal vehicles. It can even be used to rub out fine scratches on painted clear coated finishes.

| | | |
| --- | --- | --- |
| Description | Part # | Price |
| Magic Mix (8oz Bottle) | MM-P | $9.95 / each |

All orders plus shipping - Prices subject to change without notice
Original Bike Spirit Spray Cleaner & Polish

Dale loves this product and often uses it around the shop here at Holeshot . It very well may be the best quick cleaner and polish on the planet. The Original Bike Spirits Spay Cleaner and Polish comes in a aerosol 14 oz. can. This product was formerly branded by Honda and other OEMs, but now is available right from the source. OBS works fantastic on Paint, windscreens, face shields, bare aluminum, chrome , even plastic, vinyl & leather. On leather riding gear it cleans off dirt and bugs without harming the pigment.

| | | |
| --- | --- | --- |
| Description | Part # | Price |
| Spray Cleaner & Polish (14oz Can) | OBS-14 | $9.99 / each |

All orders plus shipping - Prices subject to change without notice