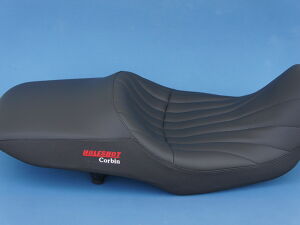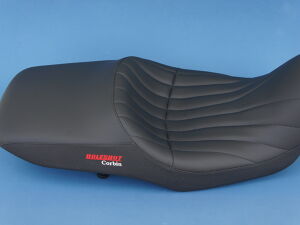 Dale recently has teamed up with the legendary Mike Corbin to design his very own exclusive Holeshot ZRX Street Fighter Seat. Working with Corbin R & D team Dale spent over two months personally shaping his latest super sleek Street Fighter Seat. Dale's shape offers a really nice seating position, with the bucket in just the right spot for added security, back support and comfort. The front section near the tank is shaped up hill just enough to keep you planted in the saddle in the proper place and the sides are tapered off just enough to eliminate any pressure points on the inner thighs.
This shape also allows the more aggressive rider to still slide off nicely side to side in the twisties. The ZRX Holeshot/Corbin offers a lower center of gravity for better handling, as well as a bit easier ground reach for shorter riders. If your a single rider and like the clean look, this new seat may be for you adding great looks to your ZRX 1100 or 1200. I rear passenger can still ride on the back for short periods of time without a problem, but keep in mind there is not much foam on the rear section of the seat, and this seat does not accommodate a back rest.
You can expect a firmer but much more comfortable ride over the original OEM seat. The Holeshot/Corbin saddle will also need a break in period of about 1500 miles to conform to your own back side.
Dale's ZRX Holeshot / Corbin seat is covered in a Carbon-Fiber style premium marine grade vinyl that breathes with your body. The Asphalt vinyl side panels blend in very nice with the lines of the bike, offering a very clean look Dale is known for with his products. The exclusive Holeshot/Corbin logo is embroidered on the right side for a finishing touch.
NOTE: Please note that the logo placement can vary slightly!
Click Here to see the Corbin Product Warranty
Holeshot / Corbin ZRX 1100 / 1200 Seat
| | | |
| --- | --- | --- |
| Description | Part # | Price |
| Holeshot/Corbin Seat | ZRX-11-G-DW | $497.00 / each |
All orders plus shipping - Prices subject to change without notice
These are a non-returnable item!
Corbin Care Saddle Cream for Leather & Vinyl

To assure many years (and untold miles) of faithful service, be sure to care for your leather or vinyl Holeshot Corbin with our quality conditioner Saddle Cream. This will help your seat to remain weather resistant and supple. Be sure to avoid cleaners or conditioners that contain petroleum products or kerosene!

In fact, Saddle Cream is probably a good idea for all your other leather & vinyl products like boots, jackets, furniture...well, you get the idea.

| | | |
| --- | --- | --- |
| Description | Part # | Price |
| Saddle Cream | C-SC | $13.99 / each |

All orders plus shipping - Prices subject to change without notice