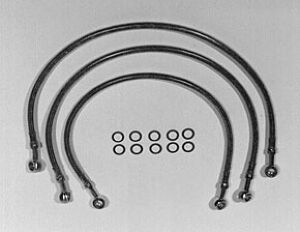 The Holeshot Galfer braided stainless lines offer a much firmer feel at the levers which vastly improves breaking as well as a better clutch feel. Stock rubber lines have a tendency to swell under breaking and crack with age. Our braided lines now come standard with a clear coat protective shield, all banjo fittings attached and new crush washers for a no-hassle, easy installation. Banjo fittings have a beautiful polished nickel plating.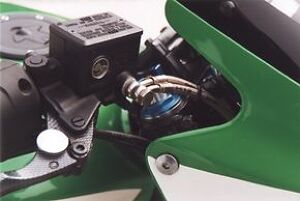 Kits for 99-01+ ZRX-1100/1200
| | | |
| --- | --- | --- |
| Description | Part # | Price |
| 2 line Front Kit | D242 | $95.00/each |
| Rear Kit | D242R | $57.00/each |
| Clutch Kit | D242CL | $57.00/each |
All orders plus shipping - Prices subject to change without notice
High Performance Brake Pads
Ferodo Limited U.K. is the world's largest friction materials manufacturer. Ferodo's record in motor racing is second to none with more world and national championships than all others combined. All Ferodo Brake pads are designed for maximum braking performance with minimal brake rotor wear. The Supersport front pads include the patent-pending H.I.C. High Initial Coefficient blue coating for fast bed-in, providing optimum performance in the shortest time possible. The new Ferodo SinterGrip brake pads represent the very latest in leading edge technology of sintered metal friction design. These new 6 piston pads provide outstanding performance not only in setting the standard for all-out braking power, but in truly remarkable feel and feedback as well.
Ferodo High Performance Brake Pads
The Ultimate Brake Pad for the High Performance Enthusiast
| | | |
| --- | --- | --- |
| Description | Part # | Price |
| ZRX 1100/1200 Front pads | FDB-2144ST | $47.95 /each disc |
| ZRX 1100/1200 Rear pads | FDB-338P | $30.95/each disc |
All orders plus shipping - Prices subject to change without notice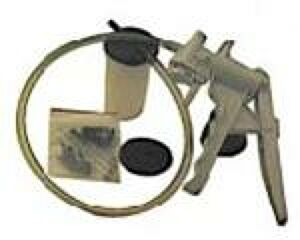 Mityvac Brake Bleeder
The Mityvac Brake Bleeder Kit makes bleeding your brakes or clutch a snap and it is a must have when installing new brake lines.
It creates a vacuum pulling the fluid from the reservoir down to the bleeder valve quickly without any mess or hassle. The complete kit includes the plastic body Mityvac, a reservoir jar with plastic transfer lid, a brake bleeding adapter package, 24 inches of tubing and instruction manual.
Mityvac Brake Bleeder
| | | |
| --- | --- | --- |
| Description | Part # | Price |
| Mityvac Brake Bleeder | 35-5904 | $46.00 /each disc |
All orders plus shipping - Prices subject to change without notice