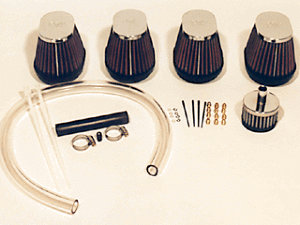 The Stage 2 kit is Dale's favorite. You can expect up to 112 rear wheel hp and massive arm stretching mid-range when run with the Holeshot Slip-on and up to 118 rear wheel hp with the Holeshot full header system. The carbs are very easy to fine tune with that damn air box out of the way and the K & N filters also out breath it big time, producing maximum power gains. Dale's spent countless hours road testing and dyno developing this kit. The results are very smooth running throughout the rpm range and just as much low end power as the air box kit. If anyone tells you your bike won't run smooth without the air box don't believe it - they simply haven't installed this kit. The stage 2 kit includes 3 sets of original Keihin main jets, Dale's aircraft aluminum hard anodized needles, E-clips, stainless shims for fine tuning, K & N oval filters, crank case breather filter, breather hose to neatly route vent filter under right side cover, smog valve by-pass tube, clamps, vacuum caps and ties. Dale's step-by-step easy to follow installation and tuning instructions make it a snap for the home tuner.
Note! Dale's Stage 2 kit you still allows you to retain your glove box storage compartment.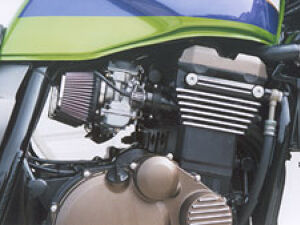 New ZRX-1200 Stage 2 Kit is now also available. On Dale's Dyno Jet Dyno, it produced 122.7 hp @ 84.1 ft. lbs. in conjunction with the Holeshot™ Slip-on and a whopping 130.2 hp @ 85.6 ft. lbs. with Dale's full Holeshot™ header system. It offers smooth drive-ability, great throttle response, and maximum horse power.
ZRX-1100/1200 Stage 2 Jet Kit
| | | |
| --- | --- | --- |
| Description | Part # | Price |
| Stage 2 Jet Kit | ZRX-JK2 | $309.00/each |
All orders plus shipping - Prices subject to change without notice
These are a non-returnable item!
Click here
for ZRX-1100 before and after dyno numbers.
Click here
for ZRX-1200 before and after dyno numbers.
K&N Recharger Air Filter Service Kit

The K&N Recharger cleaning kit includes the 12 oz bottle of air filter cleaner and the 6.5 oz air filter oil spray. This is the best way to go for cleaning and maintaining your K&N air filters. Doing so will make them last and last, keep the carbs or injectors cleaner and offer the best performance.

| | | |
| --- | --- | --- |
| Description | Part # | Price |
| K&N Recharger Kit | 99-5000 | $19.95 / each |

All orders plus shipping - Prices subject to change without notice