Knowledge through years of experience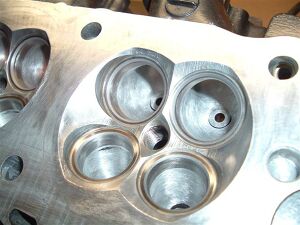 Dale has now teamed up with porting expert and good friend Gary Dye, to once again offer our customers quality cylinder head porting. Dale & Gary are both on the same page when it comes to port shape, size and what should be done for different street motor applications. One thing you do not want is some guy getting a hold of your cylinder head, over porting it or doing shoddy valve seat work. This will not make power and wont last very many miles in the real world out on the road.
Dale & Gary have over 45 years total combined experience building high performance engines, porting cylinder heads, and Dale's racing experience speaks for itself. Gary has spent countless hours on the flow bench with 2, 4 & 5 valve heads and knows what works to make a good spread of power across the board. All 3 angle valve jobs are done on a precise Serdi machine, never hand cut. The turn around time for a full street port head service is normally 2 to 4 weeks once we receive cylinder head, depending on parts needed and other factors involved unless something is back ordered.
We offer a fully ported street head combination that includes a 3 angle valve job as well as matching the intake manifolds, de- carbon, disassemble and reassemble. In some cases surfacing is also recommended, and new valve seals are mandatory.These and any other parts that may be needed will be an extra charge. All we ask is that you clean the head thoroughly as well as the gasket surfaces. Dale can go over this with you before sending us your head.
Gary will pull your head apart and do a full inspection first, then Dale will contact you to go over the overall condition, parts needed and what you can expect before any further work is started.
Please note! We also offer a budget minded cylinder head rebuild, that includes 3 angle Serdi valve job, matching intake manifolds, and bowl porting only. This service is priced upon request depending on what type of cylinder head you have.
Late model singles and twins are priced upon request
Call Dale today and he will be glad to answer any questions you may have about our Holeshot port work and cylinder head service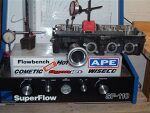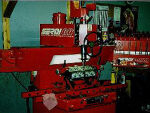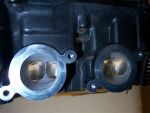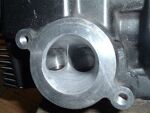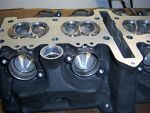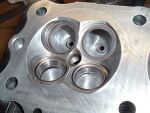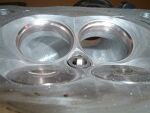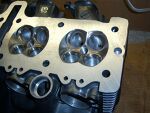 Holeshot Performance Cylinder Head Porting Service Pricing
| | | |
| --- | --- | --- |
| Description | Part # | Price |
| 2 Valve head full street port | | $740.00/each |
| 4 Valve head full street port | | $799.00/each |
| 5 Valve head full street port | | $990.00/each |
All orders plus shipping - Prices subject to change without notice