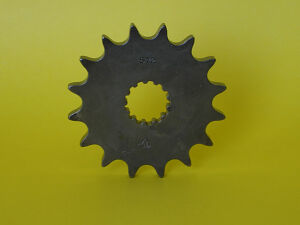 The DL-650 V Strom is a bit to high geared from the factory. This causes the bike to shudder or lug under part and full throttle load. Dale recommends dropping one tooth off the front to the 14 tooth counter shaft sprocket. Your bike will be much smoother and have better acceleration as well as more mid range torque. The bike is still great out on the open road at 70 to 80 mph cruising speeds. The 14 tooth sprocket is top quality and made in the USA. It is a simple bolt on and the original chain works fine with it. Combine this gearing change with Dale's TFI tuning box tune up, maybe our slip-on and you will think you have a whole new motorcycle. So if you want to make your Little V-Strom have more pick up we highly recommend this simple up-date.
DL 650 V-Strom 14 Tooth Counter Shaft Sprocket
| | | |
| --- | --- | --- |
| Description | Part # | Price |
| DL 650 Sprocket | 572-14 | $26.00/each |
All orders plus shipping - Prices subject to change without notice
These are a non-returnable item!