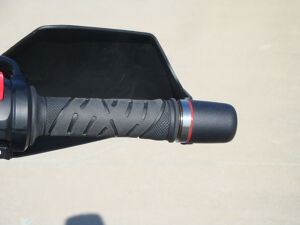 If your hands, wrist and arms get sore on a long ride, or even numb, the Throttlemeister is the ticket, not only is this a superb throttle lock, but these heavy 14 oz. bar end weights dampen the vibration better than the originals as well. This unit helps prevent carpal tunnel syndrome, as well as shoulder and back pain.
Dale has tested many throttle lock cruise controls, and his winner hands down is the original bar end type Throttlemeister. This is a precicion machined product made in the USA from billet stainless steel & co bronze then powder coated a tough clean looking black textured finish. This eliminates rust and corrosion to maintain a lasting beauty. This design is sealed by "O" rings to keep out dirt and water. The Throttlemeister will maintain its smooth and solid operating feel for years with no maintenance or lubrication.
The throttle lock is very easy to use and engage, by simply turning in the same direction as the throttle, and disengage by turning in the same direction as closing the throttle. It can also be operated wearing heavy gloves, and is so simple to use that there's no need to leave it engaged when it is not needed.
Since the Throttlemeister is installed where existing bar end weights mount it does not take up any grip space, unlike the other competitors on the market. This unit will fit all year model Suzuki DL 650/1000 V-Strom's.
Click here to view video of Throttlemeister operation.
Click here to view Dale's factory hand guard trimming tip photos.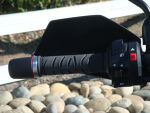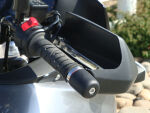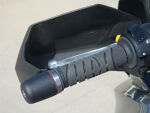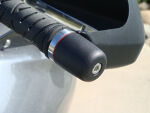 Suzuki DL-650/1000 Throttlemeister Cruise Control Bar End Weights
| | | |
| --- | --- | --- |
| Description | Part # | Price |
| DL Throttlemeister (Black) | DLTM-B | $162.00 / set |
All orders plus shipping - Prices subject to change without notice
These are a non-returnable item!