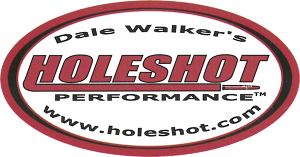 Report an issue with this page...
GSX-R 1000 Holeshot High Pipe Slip-on
Close-out Special on remaining stock only.
Once these are gone they will be gone for good

This price is under our build cost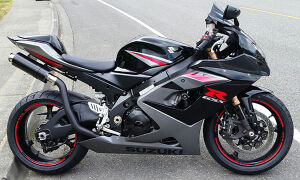 Dale's GSX-R 1000 Holeshot high pipe fits the 2005 & 2006 models. It's one of the cleanest high pipes ever produced for a late model sport bike. The Holeshot high flow mid pipe is tucked up and in for maximum cornering clearance. It has a second bend in the center area for added heal room, which eliminates the need for an ugly heat shield. The mid pipe is ceramic coated in our satin black finish for clean stealth look that blends in with the frame. The Holeshot high pipe offers a healthy boost in mid range and a 6 to 7 full horsepower gain when run with Dale's matching Dynojet Power Commander map. The hand crafted 14" Comp 2 muffler is available in a fully polished or satin black powder finish. It offers a smooth low mid range tone that will come alive when you really nail that wonderful GSX-R mill and removes unwanted weight. The Holeshot muffler is a combination of 304 stainless and 6061-T6 air craft aluminum, and is assembled in-house by expert craftsmen. The laser cut powder coated muffler bracket tucks neatly behind the canister, and Dale's design allows the pegs to be run with the pipe or removed. Custom stainless clamps and hardware are included as well as instructions on how to bypass the FI warning light on the gauges.
Though the GSX-R 1000 can be run without a Power Commander and will perform well, it will be smoother, make more power and torque, plus eliminate any minor flat spots that you may already have now in stock form.
Dale's matching Dynojet Power Commander custom map will be free of charge to our Holeshot customers once you have purchased your new high pipe.
Click here for Dyno charts
05 GSX-R 1000 on-dyno video

This video clip shows Dale dyno testing the GSX-R 1000 with the 2005-2006 Holeshot High Pipe installed. click here for the resulting dyno chart
Note! Permatex Ultra Copper High Temp Silicone is required when installing our exhaust systems. See Below.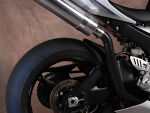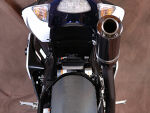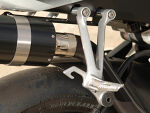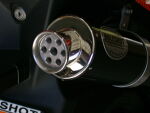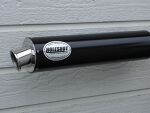 Satin Black Muffler w/
Optional Holeshot
Performance Logo Plate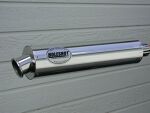 Polished Muffler w/
Optional Holeshot
Performance Logo Plate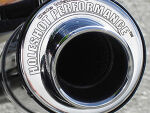 Super clean, laser-etched
Holeshot Muffler End-Cap
Now Standard!
GSX-R 1000 Holeshot High Pipe Slip-on
| | | |
| --- | --- | --- |
| Description | Part # | Price |
| polished comp 2 muffler | Part No. GSXR1-SOH | $339.00/each |
| satin black powder comp 2 muffler | Part No. GSXR1-SOHB | $339.00/each |
| Holeshot logo plate (optional) | Part No. EX-NP | $5.00/each |
| Close-out on high mount mid pipe separately | | $130.00/each |
All orders plus shipping - Prices subject to change without notice
Valco All-In-One High-Temp Silicone

Valco All-In-One High Temp Black Silicone is ideal for exhaust system slip fits during installation. It's one of the most advanced sealers available, is resistant to extreme temperatures up to 600 degrees, and can be used in non high temp applications as well. This product is a necessity to use if you are installing our Holeshot slip-on or complete header system.

| | | |
| --- | --- | --- |
| Description | Part # | Price |
| High-Temp Silicone | V-HTS | $7.50 / each |

All orders plus shipping - Prices subject to change without notice
Magic Mix

Keep your new Holeshot exhaust looking like new!

Magic Mix is known as the lazy man's polish and for a good reason. It's absolutely the best and easiest to use metal polish we've ever tested. It will keep your new Holeshot Slip-on or complete system looking new forever.

It works fantastic on aluminum, stainless, chrome and our coated slip-ons or full header system. We use it daily in our workshop during final assembly, as well as, on all our personal vehicles. It can even be used to rub out fine scratches on painted clear coated finishes.

| | | |
| --- | --- | --- |
| Description | Part # | Price |
| Magic Mix (8oz Bottle) | MM-P | $9.95 / each |

All orders plus shipping - Prices subject to change without notice
Original Bike Spirit Spray Cleaner & Polish

Dale loves this product and often uses it around the shop here at Holeshot . It very well may be the best quick cleaner and polish on the planet. The Original Bike Spirits Spay Cleaner and Polish comes in a aerosol 14 oz. can. This product was formerly branded by Honda and other OEMs, but now is available right from the source. OBS works fantastic on Paint, windscreens, face shields, bare aluminum, chrome , even plastic, vinyl & leather. On leather riding gear it cleans off dirt and bugs without harming the pigment.

| | | |
| --- | --- | --- |
| Description | Part # | Price |
| Spray Cleaner & Polish (14oz Can) | OBS-14 | $9.99 / each |

All orders plus shipping - Prices subject to change without notice