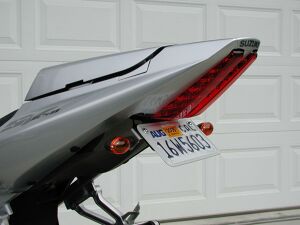 The Holeshot rear fender eliminator kit is a super clean setup to get rid of the ugly stock rear fender on your 2003+ SV-650 or SV-1000. It includes a hand crafted, now satin black powder coated stainless steel rear tray with built in license plate bracket, cat eye style blinkers for normal mounting exhausts or flush mount style for our Holeshot high pipe slip-on. It is installed without any cutting of the body work or plastic and is the hot set up when installed with our SV-650 Holeshot high pipe, standard mount or any slip-on to finish it off really nice. It also retains the original painted matched trim piece between the taillight lenses.
The Holeshot Performance license plate frame (see last picture) is also included with the kit.
NOTE: When ordered with the cat eye style blinkers our stainless mounting bracket is included. If you intend to run our high pipe slip-on then the kit with flush mount blinkers is necassary!
Our Pyramid Rear Hugger is also recommended to keep the shock and suspension links clean as well as rear tire fling off.
Our Installation & Tips should be used while installing the Holeshot 2003+ SV 650/1000 rear fender eliminator kit in conjunction with our written instruction sheet.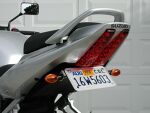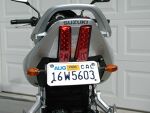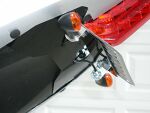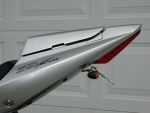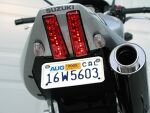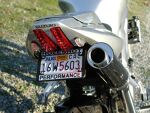 2003+ SV-650/SV-1000 Holeshot Rear Fender Eliminator Kit
| | | |
| --- | --- | --- |
| Description | Part # | Price |
| Kit w/ Cat Eye Mini Blinkers | SV03+FE-CE | $139.95 / kit |
| Kit w/ Flush Mount Blinkers | SV03+FE-F | $129.95 / kit |
All orders plus shipping - Prices subject to change without notice