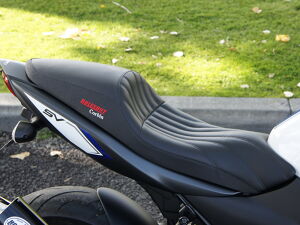 Dale recently has teamed up with the legendary Mike Corbin to design his very own 2017+ SV-650 Holeshot Street Fighter Seat. Working with Corbin R & D team in person, Dale spent 3 days shaping and testing his latest super sleek Street Fighter Seat. Dale's shape offers a great seating position, with the bucket in just the right spot for added security when tucking in on the gas. The front section near the tank is shaped up hill just enough to keep you planted in the saddle in the proper place, and the sides are tapered off to eliminate any pressure points on the inner thighs.This shape also allows the more aggressive rider to still slide off nicely side to side in the twisties. More padding was also added to the smooth bullet tail for an occasional passenger. The base latch points were also simplified over stock to make the seat come on and off easier, which is a bonus.
Dale's final shape is worlds more comfortable than the hard original seat, and it looks just awesome !
Dale's 2017 + SV-650 Holeshot Corbin seat is covered in a Carbon-Fiber style premium marine grade vinyl that breathes with your body. The Asphalt vinyl side panels blend in very nice with the lines of the bike, offering a very clean look Dale is known for with his products. The exclusive Holeshot Corbin logo is embroidered on the right side for a finishing touch.
NOTE: Please note that the logo placement can vary slightly!
Click Here to see the Corbin Product Warranty
For production purposes the pleats are slightly narrower than in Dale's video. Nothing else was changed and its a very beautiful seat.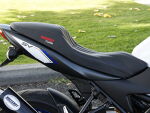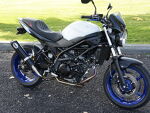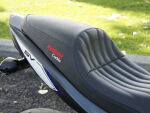 Holeshot/Corbin Street Fighter Seat for Suzuki SV-650 (2017+)
| | | |
| --- | --- | --- |
| Description | Part # | Price |
| Street Fighter Seat | SV-65-17-G-DW | $497.00 / each |
All orders plus shipping - Prices subject to change without notice
These are a non-returnable item!
Corbin Care Saddle Cream for Leather & Vinyl

To assure many years (and untold miles) of faithful service, be sure to care for your leather or vinyl Holeshot Corbin with our quality conditioner Saddle Cream. This will help your seat to remain weather resistant and supple. Be sure to avoid cleaners or conditioners that contain petroleum products or kerosene!

In fact, Saddle Cream is probably a good idea for all your other leather & vinyl products like boots, jackets, furniture...well, you get the idea.

| | | |
| --- | --- | --- |
| Description | Part # | Price |
| Saddle Cream | C-SC | $13.99 / each |

All orders plus shipping - Prices subject to change without notice