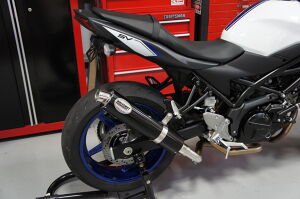 Dale's 2017+ SV-650 Holeshot Slip-on delivers the performance, quality and perfect fit you expect from Holeshot Performance. It offers over 50% weight reduction compared to stock, and is handcrafted from high grade stainless steel, and air craft aluminum components. As far as sound goes, the 14" street core version has a very throaty, yet still has very subtle exhaust note at light throttle and cruise. The 17" street is most subtle version we produce.These are all available in full polished or our 60 % gloss high temp powder black.
On the other end of the spectrum is the black only Comp 2 10" Bad Boy. This muffler has the shorter look and is mean and nasty!
The CNC machined removable Holeshot billet aluminum DB Killer kit is also a option for all the above Holeshot mufflers. It offers a 3 to 5 DB noise level reduction with minimal power loss, such as 1 to 1.5 hp clear at the top revs.
Click Here to view DB Killer page.
All 2017 SV-650 Holeshot slip-on's can be run with zero tuning and the bike will still run well, but to get real impressive gains be sure check out Dale's Holeshot Supertune pro tune. Dale pre sets every tuner for the slip-on or full system, so its literally a plug and play deal for our customers.
Click here to view Dale's Holeshot Supertune Pro Tuner.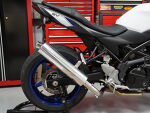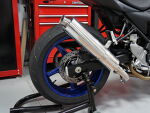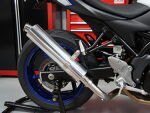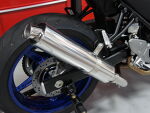 17" Polished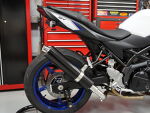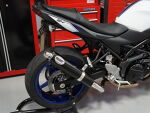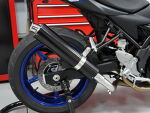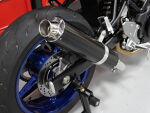 17" Black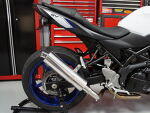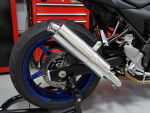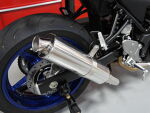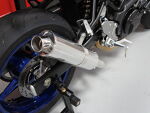 14" Polished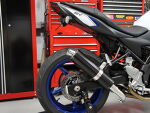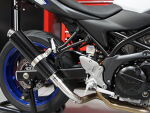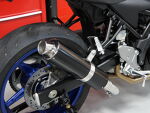 14" Black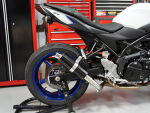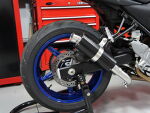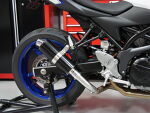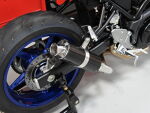 10" Bad Boy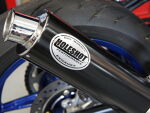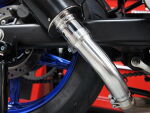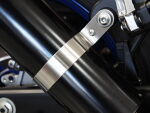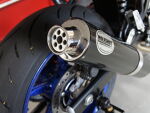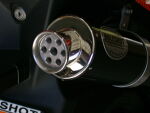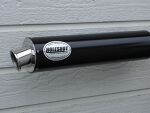 Satin Black Muffler w/
Optional Holeshot
Performance Logo Plate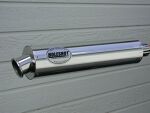 Polished Muffler w/
Optional Holeshot
Performance Logo Plate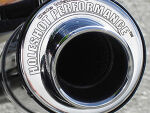 Super clean, laser-etched
Holeshot Muffler End-Cap
Now Standard!
Holeshot Slip-Ons for Suzuki SV-650 (2017+)
| | | |
| --- | --- | --- |
| Description | Part # | Price |
| 17" Polished Street | SV17-SOP-17S | $397.00 / each |
| 17" Black Street | SV17-SOB-17S | $419.00 / each |
| 14" Polished Street | SV17-SOP-14S | $397.00 / each |
| 14" Black Street | SV17-SOB-14S | $419.00 / each |
| 10" Black Comp 2 Bad Boy | SV17-SOB-10C2 | $419.00 / each |
| Holeshot Logo Plate (Optional) | EX-NP | $5.00 / each |
| Holeshot DB Killer Kit | DBK-UK | $31.95 / each |
| Holeshot DB Killer Install/Removal Tool | HDB-T | $26.95 / each |
All orders plus shipping - Prices subject to change without notice
Valco All-In-One High-Temp Silicone

Valco All-In-One High Temp Black Silicone is ideal for exhaust system slip fits during installation. It's one of the most advanced sealers available, is resistant to extreme temperatures up to 600 degrees, and can be used in non high temp applications as well. This product is a necessity to use if you are installing our Holeshot slip-on or complete header system.

| | | |
| --- | --- | --- |
| Description | Part # | Price |
| High-Temp Silicone | V-HTS | $7.50 / each |

All orders plus shipping - Prices subject to change without notice
Magic Mix

Keep your new Holeshot exhaust looking like new!

Magic Mix is known as the lazy man's polish and for a good reason. It's absolutely the best and easiest to use metal polish we've ever tested. It will keep your new Holeshot Slip-on or complete system looking new forever.

It works fantastic on aluminum, stainless, chrome and our coated slip-ons or full header system. We use it daily in our workshop during final assembly, as well as, on all our personal vehicles. It can even be used to rub out fine scratches on painted clear coated finishes.

| | | |
| --- | --- | --- |
| Description | Part # | Price |
| Magic Mix (8oz Bottle) | MM-P | $9.95 / each |

All orders plus shipping - Prices subject to change without notice
Original Bike Spirit Spray Cleaner & Polish

Dale loves this product and often uses it around the shop here at Holeshot . It very well may be the best quick cleaner and polish on the planet. The Original Bike Spirits Spay Cleaner and Polish comes in a aerosol 14 oz. can. This product was formerly branded by Honda and other OEMs, but now is available right from the source. OBS works fantastic on Paint, windscreens, face shields, bare aluminum, chrome , even plastic, vinyl & leather. On leather riding gear it cleans off dirt and bugs without harming the pigment.

| | | |
| --- | --- | --- |
| Description | Part # | Price |
| Spray Cleaner & Polish (14oz Can) | OBS-14 | $9.99 / each |

All orders plus shipping - Prices subject to change without notice