Note: New rear mini cat eye blinker and bracket kit is now available. These will allow you to mount them neatly next to the license plate frame without drilling holes in your tail section, if desired. Photos of this version will be coming soon.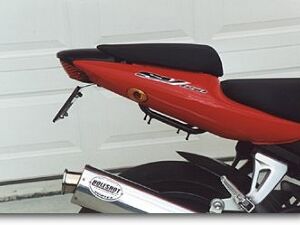 Dale's new SV Rear Fender Eliminator really cleans
up the back end for a much nicer look. The kit
includes our custom powder coated fender tray,
flush mount or mini cat eye rear blinkers and
hardware necessary for mounting.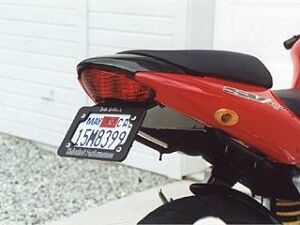 The Holeshot fender tray is pre-formed from .090
aluminum, which is very light weight and strong.
It comes pre-drilled for easy installation.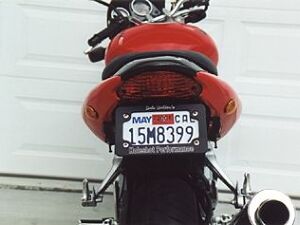 The rear view sure looks better than all that stock
stuff.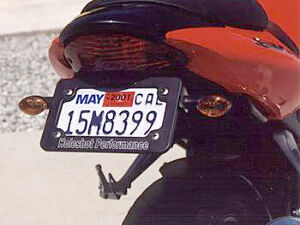 Rear Fender Eliminator Kit with Mini Cat Eye Blinker
and Bracket Kit as another option. This allows you
to install the kit without putting holes in your tail
section to use the flush mount blinkers. These also
look very clean tucked into your license plate frame,
and are also out of the way if you use soft bags.
Click Here for installation instructions.
Holeshot Rear Fender Eliminator Kit
| | | |
| --- | --- | --- |
| Description | Part # | Price |
| Kit w/ Flush Mount Blinkers | SV-FEK | $99.95 / each |
| Kit w/ Mini Cat Eye Blinkers & Bracket | SV-FEK-CE | $119.95 / each |
All orders plus shipping - Prices subject to change without notice

NOTE: Simple wire splicing the blinker wires to the original blinkerwire connectors is necessary to install!
Holeshot License Plate Frame

The new Holeshot Performance license plate frame is made of durable black plastic with a white back ground and raised lettering. It looks super clean and is a nice way finished off your project bike. Order yours today and let others know your Holeshot equipped.

| | | |
| --- | --- | --- |
| Description | Part # | Price |
| License Plate Frame | H-LPF | $4.95 / each |

All orders plus shipping - Prices subject to change without notice
Cat Eye Mini Blinkers

These trick Cat Eye Blinkers bolt right on the SV with no modification other than wire splicing. They clean the front end up tremendously and work very well. Very sano.

NOTE: Simple wire splicing the blinker wires to the original blinkerwire connectors is necessary to install.

| | | |
| --- | --- | --- |
| Description | Part # | Price |
| Mini Blinkers (Front) | 122-9850 | $22.95 / pair |
| Mini Blinkers (Back) & Bracket Kit | CE-BBK | $39.95 / pair |

All orders plus shipping - Prices subject to change without notice