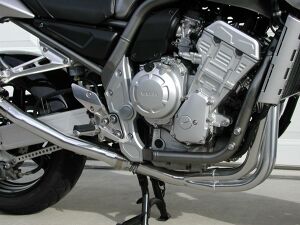 Dale spent several months developing the Holeshot 4-1 Comp 1 header system for the FZ1. Extensive dyno testing, track time and street testing was done by Dale using his own FZ1. The Holeshot 4-1 FZ1 front header section alone is nearly 6 lbs lighter than the original and combined with a Holeshot slip-on saves 12 to 13 lbs. It can be purchased as a full system in our low or high mount version or separately if you already own a Holeshot slip-on or another brand. This lets you take advantage of our full systems potential without having to start all over cost wise.
We spent a lot of R&D time getting the collector exit tube position as close to the stock header as possible. This allows you to fit any slip-on or back half to our Comp 1 FZ1 header system. The header is made from light weight high quality steel, then is Ceramic coated high luster silver inside and out. This keeps the heat inside the pipe for more efficiency, higher exhaust flow as well as offering great protection from the elements and corrosion. The coating looks beautiful and also comes with a 1 year anti-rust surface warranty. The Comp 1 header is hand crafted in house one at a time by Dale's brother In-law and ace Holeshot fabricator Paul McCain. It features all hand tig weld construction, max flow CNC machined primary tube port spigots, laser cut flanges and a divider merge plate collector design for a strong mid-range and a un-real top end charge.
Dale spent countless hours on his Dynojet 250 I dyno with his FZ1. The temperature was 68 to 72 degrees and the humidity was 48% to 52% during all testing and both combinations shown below are STD numbers with the smoothing on #5. In other words, no fudging with the before and after results, but Dale does consider these good weather conditions for dyno testing.
The original factory header with the EXUP is slightly stronger in the very low rpm range between about 2500 to 3500 rpm but keep in mind that's also with Dales jet kit and advancer properly set up.
Don't let this slightly softer area fool you. The Holeshot 4-1 header catches and passes it by 3600 rpm or so and is up 4 to 6 hp / torque in many areas of the mid-range, and at about 8000 rpm takes off very strong until redline leaving the stock header for dead. Twisting the throttle full in 1st gear can flip the bike if your not careful, carry the wheel in 2nd and skim the pavement lightly in 3rd.
Click here to view dyno run with sound.
Dyno run # 11 shows Dales FZ1 with the original header and EXUP, Holeshot Comp 1 slip-on installed and the Holeshot stage 1 jet kit with timing advancer.
Dyno run # 123 is with the Holeshot FZ1 Comp 1 Holeshot Header added and properly fined tuned.
Click here for Dyno charts
NOTE: A bone stock FZ1 makes about 119 to 121 hp depending on the conditions and dyno!
If you own another brand jet kit you can ask Dale for tuning advice. The jetting company that produced your kit may have a good base line for you to follow with a after market FZ1 4-1 header system installed. We cannot guaranty your results will be the same as Dales with another brand jet kit, no advancer, different style mufflers or slip-on installed to the Holeshot Comp 1 header.
The elbow mid pipe included with our complete header systems will come polished stainless unless coating it to match is requested when you place your order. Please allow about two weeks if you want it coated to match the new header. This can also be done at any time later for a $ 40.00 charge. The FZ1 Front fender extender and Magic Mix polish must be purchased for us to honor our header coating warranty.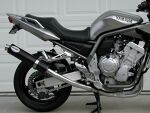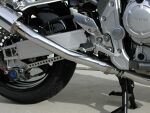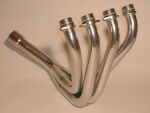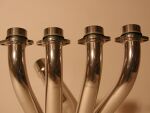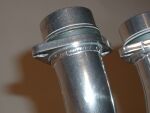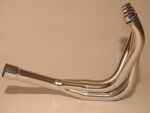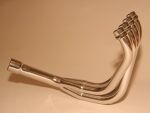 NOTE: All black canisters are now available in satin, not gloss!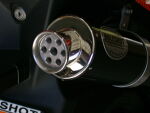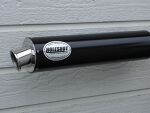 Satin Black Muffler w/
Optional Holeshot
Performance Logo Plate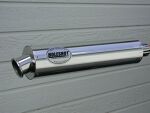 Polished Muffler w/
Optional Holeshot
Performance Logo Plate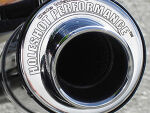 Super clean, laser-etched
Holeshot Muffler End-Cap
Now Standard!
Holeshot 4-1 Comp 1 Header System for Yamaha FZ1 (through 2005)
| | | |
| --- | --- | --- |
| Description | Part # | Price |
| Header Only | FZ1-C1H | $564.00 / each |
| Complete Low-Mount System w/ Polished Muffler | FZ1-HC-P | $864.00 / each |
| Complete Low-Mount System w/ Satin Black Muffler | FZ1-HC-B | $864.00 / each |
| Complete High-Mount System w/ Polished Muffler | FZ1-HC-HP | $884.00 / each |
| Complete High-Mount System w/ Satin Black Muffler | FZ1-HC-HB | $884.00 / each |
| Exhaust Gaskets (sold as each, so 4 are needed) | FZ1-EXG | $7.50 / each |
| Front Fender Extender (to protect header coating) | FZ1-FEX | $42.00 / each |
All orders plus shipping - Prices subject to change without notice
Valco All-In-One High-Temp Silicone

Valco All-In-One High Temp Black Silicone is ideal for exhaust system slip fits during installation. It's one of the most advanced sealers available, is resistant to extreme temperatures up to 600 degrees, and can be used in non high temp applications as well. This product is a necessity to use if you are installing our Holeshot slip-on or complete header system.

| | | |
| --- | --- | --- |
| Description | Part # | Price |
| High-Temp Silicone | V-HTS | $7.50 / each |

All orders plus shipping - Prices subject to change without notice
Magic Mix

Keep your new Holeshot exhaust looking like new!

Magic Mix is known as the lazy man's polish and for a good reason. It's absolutely the best and easiest to use metal polish we've ever tested. It will keep your new Holeshot Slip-on or complete system looking new forever.

It works fantastic on aluminum, stainless, chrome and our coated slip-ons or full header system. We use it daily in our workshop during final assembly, as well as, on all our personal vehicles. It can even be used to rub out fine scratches on painted clear coated finishes.

| | | |
| --- | --- | --- |
| Description | Part # | Price |
| Magic Mix (8oz Bottle) | MM-P | $9.95 / each |

All orders plus shipping - Prices subject to change without notice
Original Bike Spirit Spray Cleaner & Polish

Dale loves this product and often uses it around the shop here at Holeshot . It very well may be the best quick cleaner and polish on the planet. The Original Bike Spirits Spay Cleaner and Polish comes in a aerosol 14 oz. can. This product was formerly branded by Honda and other OEMs, but now is available right from the source. OBS works fantastic on Paint, windscreens, face shields, bare aluminum, chrome , even plastic, vinyl & leather. On leather riding gear it cleans off dirt and bugs without harming the pigment.

| | | |
| --- | --- | --- |
| Description | Part # | Price |
| Spray Cleaner & Polish (14oz Can) | OBS-14 | $9.99 / each |

All orders plus shipping - Prices subject to change without notice