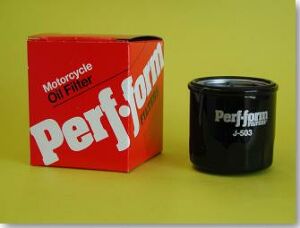 We now offer the Perf-form brand premium oil filters. Perf-form filters incorporate leading edge technology in Motorcycle oil filtration with the use of Microglass/synthetic enhanced filtration media. S.A.E. Technical papers report the greatly increased efficiency of glass enhanced filter media for particle retention capabilities in the 4-to-22 micron range, the particle size most effective in greatly reducing engine wear. Glass enhanced media also provides the added benefit of higher levels of dirt holding capacity without increased flow restriction (back pressure). All Perf-form filters have correct pressure relief valving and flow rates in accordance with the Original Manufacture's specifications.
Perf-Form Oil Filter for Yamaha FZ1
| | | |
| --- | --- | --- |
| Description | Part # | Price |
| Oil Filter | J-503 | $9.95 / each |
All orders plus shipping - Prices subject to change without notice
These are a non-returnable item!