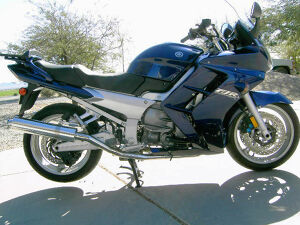 Dale's FJR 1300 304 polished stainless 4-2 header system is a real work of art.Its hand crafted in house and totally precision tig welded. Dale designed the FJR Holeshot header to not only make a few more horsepower and remove weight, but to also bring the heat down that radiates up to the the rider during warm weather riding.The Holeshot 4-2 header system removes the original toasty catalytic converters running considerably cooler. This not only gets the heat off the rider but can also lead to a longer engine life by reducing the cylinder head temperature. The header tubes are only 1/8th" larger than stock to retain the strong mid range you like about the FJR. When run as a full system complete with Holeshot slip-ons, Dynojet Power commander and Dale's custom mapping, a 6 to 9 hp gain is not uncommon over stock. Smooth running, good response and fuel mileage should be noted. The Holeshot FJR 4-2 stainless header is available as a complete system with mufflers and polished stainless mid pipes, or the front header section can also be purchased separately. The Holeshot FJR header can be added to run with Holeshot slip-ons you may already own , other brand X slip-ons or even the original factory mufflers.
Holeshot mufflers are available in a fully polished finish or with a satin black powder outer shell. Both hold up extremely well, but must be maintained properly with our Magic Mix polish and Speed wax. Installing the front fender extender is also an option to help protect the front lower fairing and primary tubes from road grime and rocks.
Dale's custom PC-3 map will be free of charge once you have purchased your new Holeshot header!
NOTE: We now have tested the
Holeshot EFI Supertune Tuner
and have several customers running it with our Holeshot Slip-ons as well as the
Holeshot 4-2 Stainless Header System
. It offers smoother running, cooler engine temps, and a bit more power and torque. The EFI Supertune Tuning box is the easiest way for the home tuner to dial in the proper air fuel mixture, and Dale now has his own settings he can provide you after your purchase of the unit. No dyno time or downloads are needed with this set up.
NOTE: If you have brand X slip-ons installed, they must utilize the stock gaskets like the original mufflers do. If they are a smaller size tube where they slide onto the original header tubes they will not fit with the Holeshot header. The gaskets are no longer needed during the header installation.
NOTE: 2006+ models will need the right hand two center stand bracket bolt heads relived to install the Holeshot FJR header. Yamaha changed the bracket and they will contact the right header tube. This can easily be done with a Dremel tool or Dye grinder.
The Holeshot FJR high flow street core mufflers now come without the Holeshot logo plate, but can be added at the customers request. They now come standard with our classy laser etched polished stainless end cap, which is super clean and very subtle. You can expect a nice deep tone that will come alive when your really nail the throttle, but also settle down and not drive you nuts out on the open road over the long haul.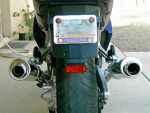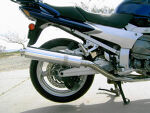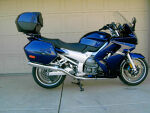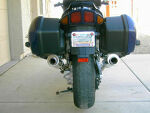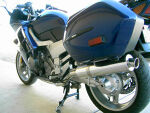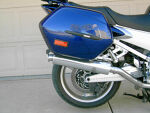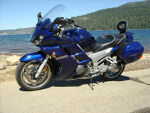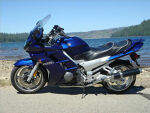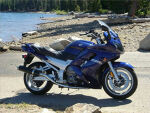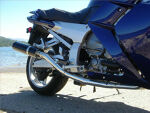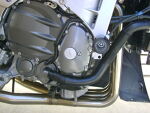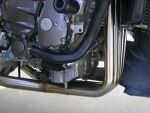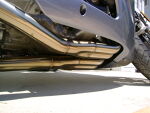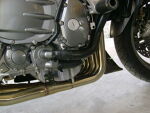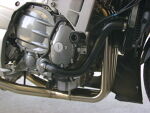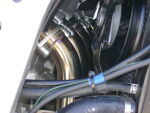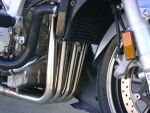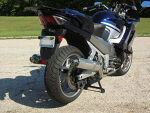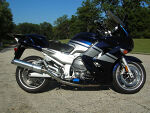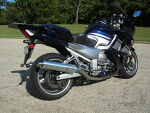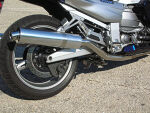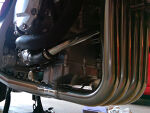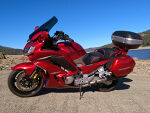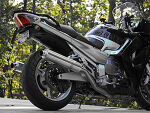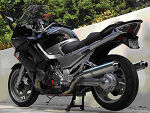 NOTE: All black canisters are now available in satin, not gloss!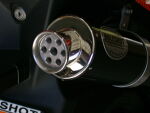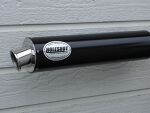 Satin Black Muffler w/
Optional Holeshot
Performance Logo Plate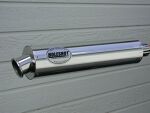 Polished Muffler w/
Optional Holeshot
Performance Logo Plate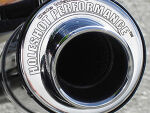 Super clean, laser-etched
Holeshot Muffler End-Cap
Now Standard!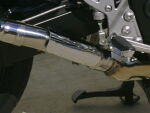 Holeshot Slip-Ons for Yamaha FJR 1300
| | | |
| --- | --- | --- |
| Description | Part # | Price |
| Complete Header w/ Polished Mufflers | FJR-HCPSS | $1249.00 / each |
| Complete Header w/ Satin Black Mufflers | FJR-HCBSS | $1249.00 / each |
| Header Only | FJR-H | $699.00 / each |
| Header Exhaust Gaskets (4 Needed) | FZ1/FJR-EXG | $7.50 / each |
| Heat Shield (Optional) | 08-1651 | $28.00 / each |
| Holeshot Logo Plate (Optional) | EX-NP | $5.00 / each |
| Front Fender Extender (through 2005) | FJR-FEX | $42.00 / each |
| Front Fender Extender (2006-2007) | FJR06+FEX | $42.00 / each |
All orders plus shipping - Prices subject to change without notice
Valco All-In-One High-Temp Silicone

Valco All-In-One High Temp Black Silicone is ideal for exhaust system slip fits during installation. It's one of the most advanced sealers available, is resistant to extreme temperatures up to 600 degrees, and can be used in non high temp applications as well. This product is a necessity to use if you are installing our Holeshot slip-on or complete header system.

| | | |
| --- | --- | --- |
| Description | Part # | Price |
| High-Temp Silicone | V-HTS | $7.50 / each |

All orders plus shipping - Prices subject to change without notice
Magic Mix

Keep your new Holeshot exhaust looking like new!

Magic Mix is known as the lazy man's polish and for a good reason. It's absolutely the best and easiest to use metal polish we've ever tested. It will keep your new Holeshot Slip-on or complete system looking new forever.

It works fantastic on aluminum, stainless, chrome and our coated slip-ons or full header system. We use it daily in our workshop during final assembly, as well as, on all our personal vehicles. It can even be used to rub out fine scratches on painted clear coated finishes.

| | | |
| --- | --- | --- |
| Description | Part # | Price |
| Magic Mix (8oz Bottle) | MM-P | $9.95 / each |

All orders plus shipping - Prices subject to change without notice
Original Bike Spirit Spray Cleaner & Polish

Dale loves this product and often uses it around the shop here at Holeshot . It very well may be the best quick cleaner and polish on the planet. The Original Bike Spirits Spay Cleaner and Polish comes in a aerosol 14 oz. can. This product was formerly branded by Honda and other OEMs, but now is available right from the source. OBS works fantastic on Paint, windscreens, face shields, bare aluminum, chrome , even plastic, vinyl & leather. On leather riding gear it cleans off dirt and bugs without harming the pigment.

| | | |
| --- | --- | --- |
| Description | Part # | Price |
| Spray Cleaner & Polish (14oz Can) | OBS-14 | $9.99 / each |

All orders plus shipping - Prices subject to change without notice