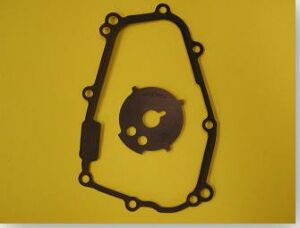 The Holeshot FZ1 timing advancer adds 3+ degrees of ignition timing. This is a very easy way to add 1 to 2+ horse power throughout the entire RPM range and pick up throttle response in the usable part of the power curve. A very smooth idle can also be expected once up to normal running temperature.
Dale's testing showed a gain of nearly 4 full ft-lbs of torque from 2500 to 3000 rpm on his Dynojet model 150 dyno. In most cases slightly better fuel economy is not uncommon with a slight ignition advance added. Pinging or heat is not a problem and although 89 octane fuel is most likely the best to run in the FZ1, Dale tested 87 octane and still could not make it ping or rattle. The advancer will not shorten engine life in any way shape or form. Testing was done on three FZ1s after Dale's Holeshot slip-on was added without jetting. Dale did it this way to independently test three different timing settings to see how the motor would react by advancing the timing only. He found the sweet spot to be 3+ degrees.
NOTE: Dale recommends only installing the advancer when a jet kit is added. The Holeshot advancer is included in our
Holeshot Stage 1 Modified Jet Kit
with great results. Other jet kits and tune-ups may also effect the outcome of any advancer installed, but off-idle crispness and mid-range throttle response should be enhanced without any top end loss when properly tuned to match the timing.
The Holeshot timing advancer also comes with a new cover gasket and installation instructions.
Click Here for Dyno Charts.
Holeshot Timing Advancer for Yamaha FZ1 (through 2005)
| | | |
| --- | --- | --- |
| Description | Part # | Price |
| 3° Timing Advancer w/ Cover Gasket | FZ1-RT | $53.00 / each |
All orders plus shipping - Prices subject to change without notice
These are a non-returnable item!