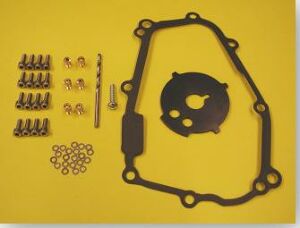 After several months of dyno and road testing, Dale's FZ1 stage one modified jet kit is now available. You won't find an easier kit to install by the professional or any home tuner. It really enhances the FZ1, making it much less cold blooded and much smoother throughout the RPM range eliminating those buzzing mirrors. The kit will vastly improve throttle response, add tons of usable mid-range grunt and 9 to 12 horse power at the rear wheel when run in conjunction with our slip-on. A very smooth idle can also be expected once up to normal running temperature.
Dale's kit also includes his 3+ degree timing advancer which really helps with overall throttle response. Our tests have shown gains of 3 to 4 ft - lbs. of torque from about 2500 to 3000 rpm and it helps deliver 45 to 50 mpg on the freeway. A 1 to 2 horsepower gain was also achieved throughout the entire RPM range with Dale's 3+ degree advancer added. Of course gains can vary from bike to bike depending on many other factors. 87 or 89 octane fuel can also be run without any problems such as too much heat, pinging or detonation whatsoever.
Dale's kit does not require any internal drilling of the carb bodies, slides or anything else like other kits do and will work great with our Holeshot slip-on or others, full systems or even the stock muffler.
The Holeshot FZ1 stage one mod jet kit includes:
Three sets of original Mikuni main jets for stagger jetting, mill spec stainless needle shims, stainless float bowl allen bolts, 1/8th" drill bit and metal screw for external pilot fuel screw plug removal, 3+ degree timing advancer and new cover gasket. Dale's step by step instructions make it easy for anyone to install this kit and a dyno is not needed to dial it in. Dale also is only a phone call away if you have any questions.
Note: The Holeshot 3+ degree advancer is also available separately if you have a pipe and jet kit already installed.
Click here!
Click here to see what customers say about our jet kit and ignition advancer.
Click here for Dyno charts
Holeshot FZ1 Stage 1 Modified Jet Kit including timing advancer
| | | |
| --- | --- | --- |
| Description | Part # | Price |
| Holeshot FZ1 Stage 1 Modified Jet Kit including timing advancer | FZ1-JK1M | $109.00/each |
| Holeshot FZ1 3+ degree timing timing advancer with cover gasket only | FZ1-RT | $53.00/each |
All orders plus shipping - Prices subject to change without notice
These are a non-returnable item!