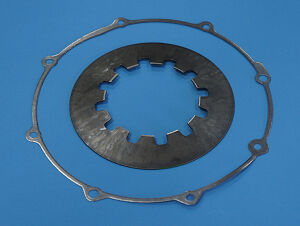 It's no secret that the clutch is the weak link of any high horsepower bike. If you play hard, or add any more power to your Gen 2 Max, the clutch will begin to slip and fry the plates. The easy solution is simply adding a 2nd original Yamaha clutch spring. Dale has put a kit together for our customers so you don't have to go to a Yamaha dealer and order the parts. It includes one new OEM diaphragm spring and clutch cover gasket. 1/4 mile times in the 9s are no problem with this set up. This modification can be done by any competent home tuner with normal hand tools, and Dale even did a "how to install" page to help out.
Click here to view Dale's how to page with photos
Double Clutch Spring Kit for Yamaha V-Max (2009+)
| | | |
| --- | --- | --- |
| Description | Part # | Price |
| Clutch Spring Kit With Cover Gasket | VMG2-CSK | $89.95 / each |
All orders plus shipping - Prices subject to change without notice
These are a non-returnable item!