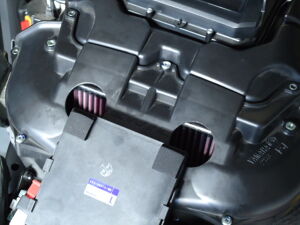 Dale's Stage 1 Mod Kit lets the big Gen 2 V-Max motor breath like the beast was meant to be. This is the best way to go for the money spent. It retains the modified air box while still making huge power gains. Dale increases the air flow 3 ways: 1st by removing the internal restrictor funnel, 2nd by adding two more air intake holes in the back cover, 3rd by adding the K&N replacement air filter. The kit also includes a tapered rubber plug to block off the AIS hose which helps eliminate decel popping when adding a free flowing exhaust.
With The Holeshot 4-2 Exhaust System installed along with the The V-Max Guru Tim Nash ECU Re-Flash, you can expect a whopping 16 to 17 HP gain and up to 15 ft lbs of arm stretching mid range. Many hours of dyno time were spent on getting the proper air fuel ratio for the best overall driveability and steady cruise as well, since big dyno numbers alone are not all that matters to most, or to Dale. This kit also should work great with most other back half systems. 9.5 to 9.8 second 1/4 mile times can be achieved with this set up, and for reference Dale went 10.13 on a totally stock 2009 model testing it for Cycle World magazine.
The V-Max Guru Tim Nash ECU Re-Flash is the ultimate way to go. It wakes up the bottom end power big time, eliminating the bog as well as getting rid of the factory speed Governor. This Update to your ECU is worth 2 to 3 tenths of a second at the strip. Click here for more info
Click here for Holeshot Header with Stage 1 Air Box Mod Kit dyno chart
Click here to view how to photo tip page of Stage 1 Mod Kit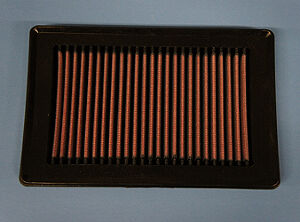 K&N Air Filter
2009+V-Max Holeshot Stage 1 Air Box Mod Tuning kit
| | | |
| --- | --- | --- |
| Description | Part # | Price |
| K&N air filter with rubber AIS Plug | YA-1709P | $58.95/each |
All orders plus shipping - Prices subject to change without notice
These are a non-returnable item!