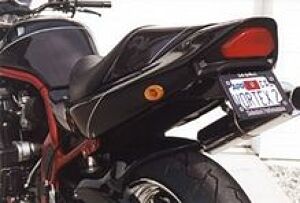 We offer these clean Flush Mount blinkers, as well as our new Mini Cat Eyes.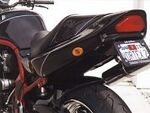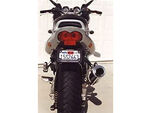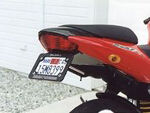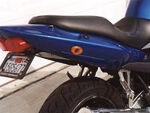 NOTE: Flush mount type require a 1-1/8 inch hole to mount and at least 1-1/2 inches behind the side panel or front fairing for proper clearance, which is usually not a problem.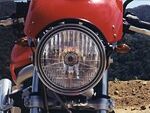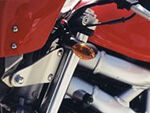 Our Mini Cat Eye blinkers can be mounted on many bikes, replacing the stockers and can be used front or rear.
The blinkers are 2-5/8" long from the mounting base to the outer edge.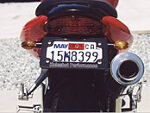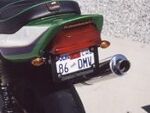 New Rear Mini Cat Eye blinker and bracket kit allows you to cleanly mount the blinkers tucked in next to the license plate.
Our blinker bracket easily mounts between the plate and the stock bracket.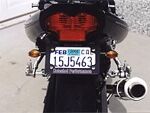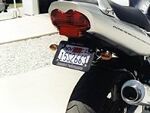 The kit includes our one piece stainless blinker bracket and one pair of mini cat eye blinkers.
NOTE: Simple wire splicing the blinker wires to the original blinker wire connectors is necessary to install. All cat-eyes come with amber color lens only, not smoke.
Holeshot Mini Blinkers
| | | |
| --- | --- | --- |
| Description | Part # | Price |
| Flush Mount Blinkers | 122-9735 | $24.95/pair |
| Mini Cat Eye Blinkers | 266016 | $22.95/pair |
| Rear Blinkers/Bracket Kit | CE-BBK | $42.95/pair |
All orders plus shipping - Prices subject to change without notice