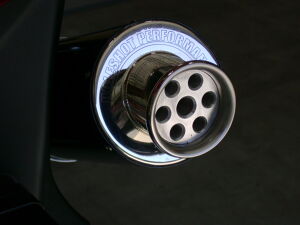 Dale's Holeshot Billet machined billet db killer not only looks trick, it also really works. Testing has shown a 3 to 5 db reduction when installed in your Holeshot muffler. This is intended as a option for the rider that may want to tone your Holeshot slip-on or full system down a bit or when you take a long ride. The kit comes with every thing needed for the home tuner to install the db killer, using a hand drill and drum sander. The db killer will only fit Holeshot mufflers.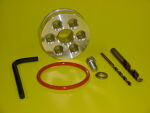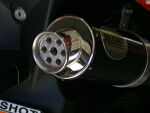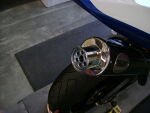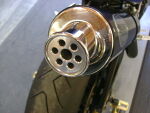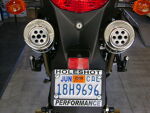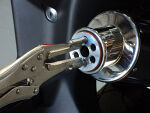 NOTE: You will need to measure the bead width on your turn down tip to determine which db killer kit you need to order. What we call the 3/16" tip bead is 5.65mm to 5.70mm wide, and the 1/4" tip bead is 6.85mm to 6.95mm wide. This will make it easier for you to be sure on which kit to order.
The 1/4" bead width uses the DBK-SK kit

Click here to see DBK-SK photo installation page

The 3/16" bead width uses the DBK-UK kit

Click here to see DBK-UK photo installation page

DB Killer Installation & Removal Tool
Click here to read customer testimonials.
Click here to view DB Killer video sound clip installed in DL-1000 Holeshot Exhaust.
NOTE: If you have a dual muffler system, be sure to order two DB Killers.
Holeshot Muffler Billet DB Killer Kit
| | | |
| --- | --- | --- |
| Description | Part # | Price |
| DB Killer | DBK-SK | $31.95 |
| DB Killer | DBK-UK | $31.95 |
| Install / Removal Tool | HDB-T | $26.95 |
All orders plus shipping - Prices subject to change without notice