This is a U.S. Patented product by Holeshot Performance. Click Here for viewing.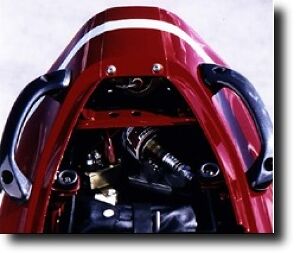 Dale designed this one-off custom built solenoid specifically for the job.
Shown above in the tail section of the 1200 Bandit. Photo: Kevin Wing
Full Throttle Clutchless Shifts with the Touch of a Button
After 3 years of development Dale's new revolutionary fully electric Push Button Solenoid ShifterTM is now available. There are already over 300 satisfied customers running the new PS-3. This unit allows full throttle clutchless upshifts with a touch of the custom billet push button unit that mounts between the left grip and horn switch assembly without modification. This fully patented design allows the solenoid unit to be remotely mounted (hidden) in the tail section, or under side panel on most popular sport bikes. Many Harley riders are also now running the new power shifter.
Custom B-12 cable bracket is available.

Note: Customer must fabricate his own cable bracket assembly on most models.
A custom stealth (hidden) cable, which is included, routes down to a beautiful aluminum computer machined cable bracket kit. The cable attaches to the shift pedal via a trick clevis assembly.
The new Holeshot Electric Pushbutton Solenoid ShifterTM also incorporates our original Power Shifter 2TM ignition interrupt kill box. When the custom pushbutton is pressed the PS-2TM kill box momentarily interrupts the ignition system, releasing the load from the drive train. This interrupt duration time is easily adjusted with a dial on the kill box. In a split second the patented Holeshot Solenoid unit pulls the cable which then completes the shift to the next gear--safely and smoothly.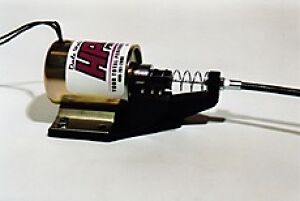 The patented cable-pull Holeshot Solenoid unit is the heart of the system. It is neatly mounted in the tail section of any sport bike, "Can you say stealth"?
NOTE: All aluminum computer machined components are black anodized!
Holeshot PowerShifter-2 Ignition Kill Box

The Holeshot Electric Solenoid Shifter incorporates Dale's "Original" PowerShifter 2TM ignition kill box. The ignition kill delay time is easily adjusted via the turn dial. The kill box 2" x 3" for convenient mounting under the side panel or fairing of most superbikes. Dale's kill box is also compatible with spare plug cap type coils on late model sport bikes.
Holeshot Electric Solenoid Shifter (Includes Trick Push Button)

Dale designed his own patented push button unit that mounts cleanly between the left grip and the original horn switch assembly. This will mount on any street bike eliminating the need to modify your horn button switch. Computer machined from billet aluminum then black anodized for a nice finish.
Cable Life Spray Lube

NOTE: You will need to lube your new throttle cables before you install them!

Cable life spray lube is the perfect throttle cable lube. It lubricates in sub zero to super hot climate temperature ranges, displaces moisture, prevents rust and corrosion. Special anti-wear additives help to extend cable life and leave a non-drying ultra thin slick film for a smooth operation.

| | | |
| --- | --- | --- |
| Description | Part # | Price |
| Cable Life Spray Lube | CB-SL | $7.95 / each |

All orders plus shipping - Prices subject to change without notice
"What makes Dale's design better than an air shifter", you ask?
Air shifters have their place, but we feel are more suited for all out Drag bikes. On Street Strip bikes or Road Racers they are just plain more complicated.
Example of Air shifters requirements:
on board air tank
on board compressor
air ram
air ram mounts-that requires welding or bolting to frame
air ram mounts-that require welding and fabricating shift linkage
air or electric ignition kill switch
air lines
switching valve
push button with air gauge that's hard to mount on street bikes
large, non-hidden components (mainly air ram)
room to mount everything on your bike can be troublesome
Dale's new Holeshot Electric Pushbutton Solenoid ShifterTM is a COMPLETELY ELECTRIC, no air design. It includes these simple components:
complete Holeshot patented solenoid unit with custom cable clamp, micro switch and mounting plate
heavy duty relay
custom cable
Power Shifter "2"TM kill box
custom cable bracket mounting kit, sold separately
new, no-hassle "patent pending" billet pushbutton unit
Holeshot Electric Pushbutton Solenoid ShifterTM includes complete solenoid assembly, solenoid cable, PS-2 ignition kill box, custom billet pushbutton, relay, toggle switch and full installation instructions.
Dale,
Thanks again for making a great product in your powershifter 3. My bike ia primarily a street bike that I also race in the Prostar/NHRA series in the Street/ST class. I looked long and hard at air shifter set-ups, but the complexity and added weight just didn't make sense on what was primarily a street bike. Your Powershifter 3 was the perfect solution. The craftsmanship on the parts is first rate, and with all your expert guidance, the installation very straight forward. It's never missed a shift on the road or at the track. So far I've only made it one race with the shifter, where I qualified Ist in my class, but I then got a flat in the last round of qualifications, so I didn't make eliminations! I'll be looking for a win next time out, and one thing I won't be worrying about is shifting!


The new Holeshot Electric Pushbutton Solenoid Shifter TM installed on a customer's Kawasaki ZX-9R.

The 2 photos above show the Holeshot Electric Pushbutton Solenoid ShifterTM Chris installed on his Kawasaki ZX-12.

Chris Myhre - Skull Valley, AS - Prostar/NHRA #160
Local racer Mike Fields owns this Bad Hayabusa. Mike is from Sacramento, CA His Busa has run as quick as 9.28 ET @ 150 MPH with Dale's Electric Power Shifter 3. Mike loves the full electric system feature so he doesn't have the hassle of an air tank or compressor. Mike machined this simple aluminum purchase bracket himself to do the job of supporting the cable.

Mike Fields - Sacramento, CA
Click Here to read more customer testimonials...
Holeshot PowerShifter 3 Kits
| | | |
| --- | --- | --- |
| Description | Part # | Price |
| Kit for Standard Coil Ignitions & Stick Type Coils | PS-3 | $654.00 / each |
| Kit for late model Hyabusa and GSX-R with stick type coils | PS-3S | $654.00 / each |
| Kit for ground type kill ignitions | PS-3GT | $654.00 / each |
| Kit for handicapped riders without engine kill | PS-3DS | $554.00 / each |
| Kit for Harleys with standard coil ignitions | PS-3HD | $654.00 / each |
| Kit for Harleys with ground type kill ignitions | PS-3HGT | $654.00 / each |
| 1200 Bandit Shifter Cable Mounting Bracket Kit | B12-BK | $59.95 / each |
| Cable life spray lube | CB-SL | $7.95 / each |
All orders plus shipping - Prices subject to change without notice
These are a non-returnable item!