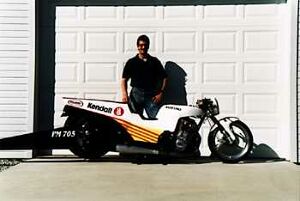 Hey Banditos, here's some new photos of my GS based Pro-Modified Suzuki that I'm finally ready to start testing very soon. It is turning out pretty nice, and it had better be since I've been working on it for two years! I'll keep you updated from time to time as I proceed down the track.
---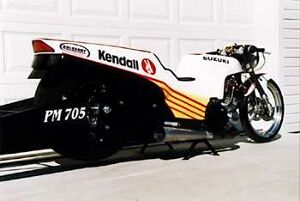 Bike Specifications:
Class - Pro-Modified carbs / gas / progressive nitrous oxide
Engine - Suzuki 4 valve GS based 1428cc
Compression - 13.2:1
Cam shafts - .430" in, .420 ex
Cylinder head - very, very large, complete new intake tracks, raised port floors and epoxy work
Crank shaft - Falicon Super Crank
Trans - FBG billet 5 -speed auto
Clutch - Billet basket straight cut gear, MRE lockup
Carbs - 44mm FBG Megatrons
Pipe - VHR Pro Stock Gold Label
Exhaust temp - Percy's High Performance digital exhaust temperature analyzers with full recall
Ignition - Dyna 4000 with 2 step and dual ignition retard
Nitrous - NOS System with Schnitz progressive control box
Shifter - Holeshot Preformance full electric Power Shifter 3 pushbutton unit, (no stinkin' air)
Chassis - Trac Dynamics T-4 Pro-Mod complete roller with 11" Goodyear
Engine oil - That's pretty obvious...Kendall, of course.
Fuel - Sunoco NOS Supreme 120 octane
Estimated horsepower - 350-400
ET potential - 7.20-6.90 ET @ 185-200 mph
---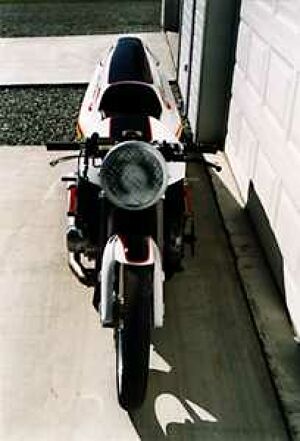 All the paint work was done by Irby Designs in Watsonville, CA. Danny Irby really did a great job matching the Kendall Funny Car's paint scheme. He paints motorcycles full time. He can be reached at (831) 761-1949.
---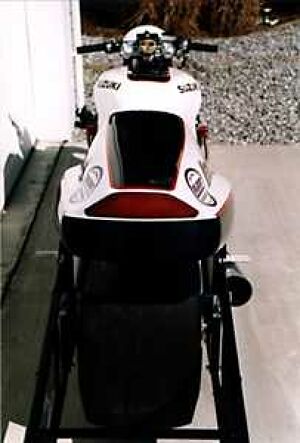 ---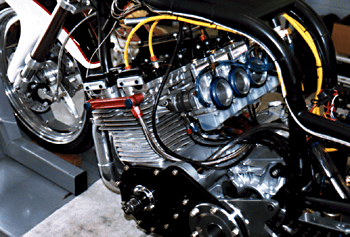 Attention to every little detail really makes the difference. Dale's known to be pretty much a fanatic in this area.
---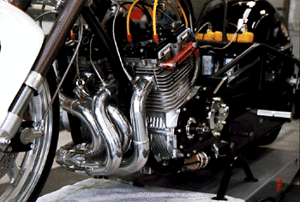 The above photo shows the 1 3/4 " to 1 7/8" VHR Pro Stock pipe, Percy Exhaust Temp Probes, Ward Performance top end oiling kit, TRAC inverted drag forks.
---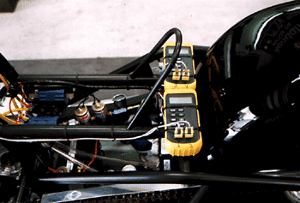 Percy High Performance Exhaust Temp analyzers keep each cylinder's maximum temperature in memory recall. This allows Dale to pull up the readings after each pass for tuning decisions between rounds.
---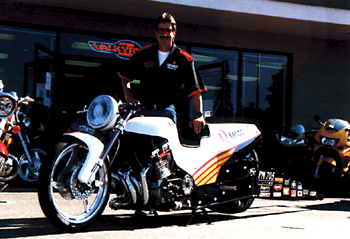 Dale recently had his new Holeshot/ Kendall Pro-mod Suzuki on display at All American Honda Kawasaki Suzuki in Santa Cruz, CA. Many customers at the dealership enjoyed looking over this machine and the sport bike guys were suprised to find out that it's not so simple going in a straight line. After bugging him most of the day, Dale fired up the motor and winged it a few times. All left with ears ringing. Testing will soon begin.
---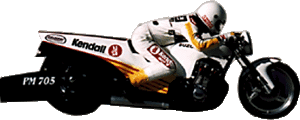 This thing should get my attention...