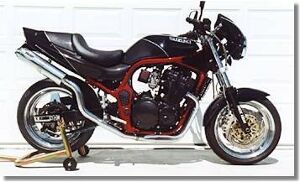 Dale Walker's Y2K 1200 Bandit Project Bike
Dale's Holeshot Bandit was just featured in Motorcyclist, Cycle World, City Bike and riderworld.com magazines. It got rave reviews about the overall clean package, power output and every day drivability. 2,600 miles on bike, only 400 on motor combo.
Dale's 1216cc B-12 has just about every part he makes on it and then some, and is one of the most beautiful Bandits on the planet.
With 150 HP and about 96 ft-lbs on tap, this bike flat out snorts. This thing is a joy to ride and Dale's favorite bike to date.
Pictures: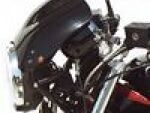 Streetfighter Headlight Kit
and Fly Screen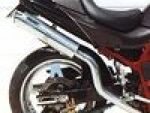 The new, super clean
Holeshot High Pipe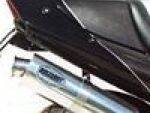 Mono Seat and Grab Rail
Removal Button Kit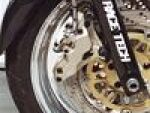 Nissin 6 piston
calipers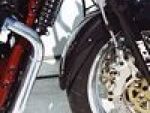 Installed Front Fender
Extender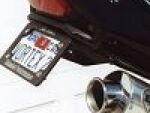 Rear Fender
Eliminator Kit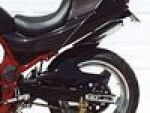 Rear Hugger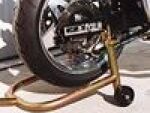 Fully adjustable swing arm
and 6.25" rear wheel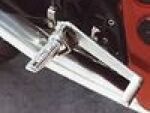 Billet pegs for front
and rear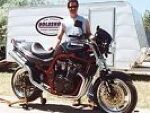 Real world testing outside
Patterson, CA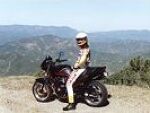 Dale testing his B-12 on a
beautiful day over
Mount Hamilton, CA

Specifications:
Specifications
Engine
Holeshot/JE 1216cc piston kit
Holeshot cylinder head porting & comp valve job
GSX-R intake cam
Holeshot Stage 2 jetting
Holeshot 5 degree timing advancer
Holeshot HD clutch spring

Exhaust
Holeshot complete stepped system with new high pipe

Shifter
Holeshot fully electric PS-3 push button unit

Chassis
RC Component wheels with 6.25 inch rear
Nissan 6 piston calipers
Race Tech gold valves, springs for front forks
Holeshot lower motor mount kit
Holeshot billet fork brace
Holeshot brake and clutch lines
Holeshot Progressive rear shock
Holeshot fully adjustable swing arm mod 0 to +5 inches
Holeshot rear sets and billet foot pegs
Holeshot billet frame covers, bar clamp & master cyl. covers
Holeshot super bike bars
Holeshot street fighter headlight kit and fly screen
Holeshot solo seat, rear hugger and front fender extender
Holeshot rear fender eliminator kit

Painted By
Dean Dinnetz

Performance
150 HP @ 96 ft-lbs torque at rear wheel (best dyno pull)

Results
1/4 mile 9.70 ET., 141 mph

Paint Job:
The beautiful paint work was done by Dale's friend Dean Dinnetz. If you are interested in a custom paint job done right you can contact Dean at dinnetz@mac.com