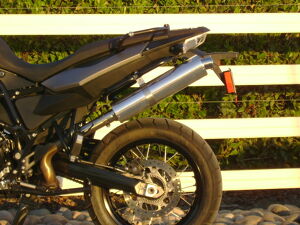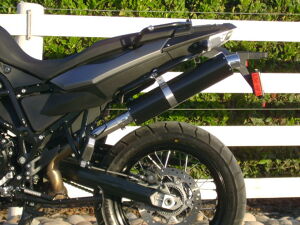 Dale's Holeshot BMW F-650/800GS slip-on is just what the doctor ordered to give your adventure bike some added performance, a nice weight reduction and a very sweet exhaust note. All parts are 100% American made and assembled in house. The Holeshot slip-on includes our hand crafted 17" street core muffler, which comes with polished stainless end caps, turn down tip, and Holeshot laser mark. Its constructed from 304 aircraft stainless and 6061-T6 aircraft aluminum. High end custom made stainless clamps, hardware and polished 304 stainless mid pipe also complete the package. The Holeshot slip-on is about 50% lighter than the original muffler looks super clean and fits perfect. It picks up about 2 hp as well as mid range torque, and can be installed in less than 30 minutes with normal hand tools. The muffler is available fully polished or in our satin black version, and the optional Holeshot oval logo plate can be added if desired. It offers a very smooth and fairly mellow exhaust note at freeway cruise, but will still come alive a bit when you nail the throttle. We also offer our Holeshot DB killer as a super stealth option, but Dale recommends trying the Holeshot slip-on first without, to see if you think you really need it.
NOTE: Re-tuning or mapping is not required to run our Slip-On!
Click Here to view before and after F-800 dyno charts, without tuning or re-mapping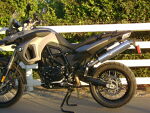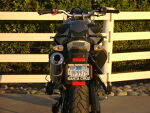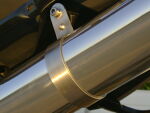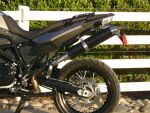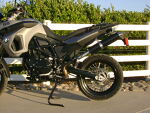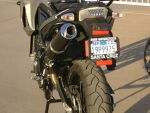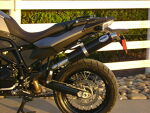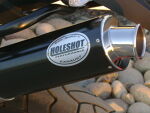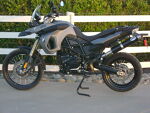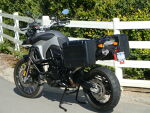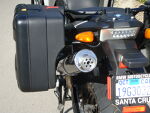 NOTE: Valco High-Temp Silicone is required when installing our exhaust systems and our polishes should also be used.
See Below
Holeshot Muffler DB Killers Now Available!

Powder Satin Black Muffler

Optional Holeshot Logo Plate, sold separately, customer installs.

Polished Muffler

Optional Holeshot Logo Plate, sold separately, customer installs.

Our Latest!

Super clean, laser-etched Holeshot Performance muffler end-cap is now standard.
Holeshot BMW F-650/800GS Slip-On
| | | |
| --- | --- | --- |
| Description | Part # | Price |
| 17" Polished Street | F8GS-SOP | $419.00/each |
| 17" Black Street | F8GS-SOB | $419.00/each |
| Holeshot Logo Plate (Optional) | EX-NP | $5.00/each |
All orders plus shipping - Prices subject to change without notice
Valco All-In-One High-Temp Silicone

Valco All-In-One High Temp Black Silicone is ideal for exhaust system slip fits during installation. It's one of the most advanced sealers available, is resistant to extreme temperatures up to 600 degrees, and can be used in non high temp applications as well. This product is a necessity to use if you are installing our Holeshot slip-on or complete header system.

| | | |
| --- | --- | --- |
| Description | Part # | Price |
| High-Temp Silicone | V-HTS | $7.50/each |

All orders plus shipping - Prices subject to change without notice
Magic Mix

Keep your new Holeshot exhaust looking like new!

Magic Mix is known as the lazy man's polish and for a good reason. It's absolutely the best and easiest to use metal polish we've ever tested. It will keep your new Holeshot Slip-on or complete system looking new forever.

It works fantastic on aluminum, stainless, chrome and our coated slip-ons or full header system. We use it daily in our workshop during final assembly, as well as, on all our personal vehicles. It can even be used to rub out fine scratches on painted clear coated finishes.

| | | |
| --- | --- | --- |
| Description | Part # | Price |
| Magic Mix | MM-P | $8.95/each |

All orders plus shipping - Prices subject to change without notice
Original Bike Spirit Spray Cleaner & Polish

Dale loves this product and often uses it around the shop here at Holeshot . It very well may be the best quick cleaner and polish on the planet. The Original Bike Spirits Spay Cleaner and Polish comes in a aerosol 14 oz. can. This product was formerly branded by Honda and other OEMs, but now is available right from the source. OBS works fantastic on Paint, windscreens, face shields, bare aluminum, chrome , even plastic, vinyl & leather. On leather riding gear it cleans off dirt and bugs without harming the pigment.

NOTE: Some flat black surfaces should be tested in a small area first. We highly recommend this product for daily use to keep your bike and gear in tip top shape as well as looking good.

| | | |
| --- | --- | --- |
| Description | Part # | Price |
| Magic Mix (8oz Bottle) | MM-P | $8.95/each |

All orders plus shipping - Prices subject to change without notice