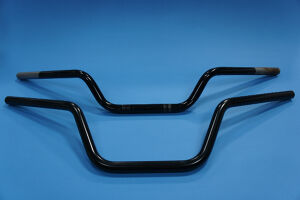 Dale tested quite a few of the bar risers and bar backs out there, and just was not happy with the out come or the erector set look of all that stuff bolted together. Instead he thought out of the box and got to work on testing the new Holeshot DL-1000 / 650 V-Strom Comfort Handle Bars. After making 3 prototype sets with different bends and rises the finished product is just what the doctor ordered. Dale feels the stock bend is not the real issue, and that mostly they needed to be closer to the rider and only slightly higher. The Holeshot Comfort bars are approximately 3/4" inch higher, 1.5" to 2.0" inch closer to the rider, and 30 " inches wide. This will depend on how you have them adjusted of course. They are CNC bent and made from DOM American 7/8" inch steel tubing, then powder coated in a 60 % gloss satin black finish. The ID will fit the original bar ends, after market or the Throttlemeiste, but must be lightly sanded or tootsie rolled. Since different year models use different switch assemblies, the customer must drill the two holes for the switches once you have the bars installed. The stock brake line, cables, and wires looms reach but some minor re-routing is required. If you have a hard time reaching your stock bars or your shoulders start killing you when you ride, then consider giving the new V-Strom Holeshot comfort bars a try. You wont be sorry.
The Holeshot Comfort Bars fit every year model DL 650 & 1000, Please note! These are a non returnable item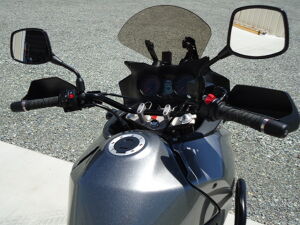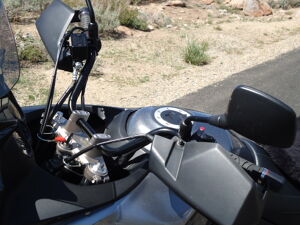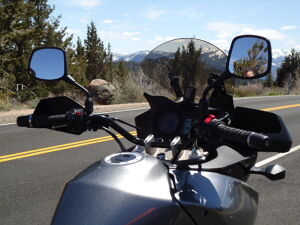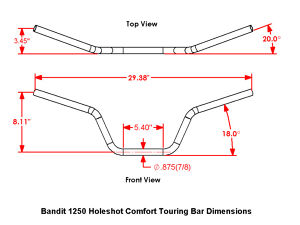 DL-1000/650 V-Strom Holeshot Comfort Bars
| | | |
| --- | --- | --- |
| Description | Part # | Price |
| Comfort Bars | HCB | $109.00/each |
All orders plus shipping - Prices subject to change without notice
These are a non-returnable item!
Superbike Pro Gel Grips

The Superbike Pro Gel Grips feature a gel system design with an exclusive dual formula for greater comfort and much less vibrations, to help eliminate numbing of the hands. The Street grips are 120 mm long with open ends to fit with stock or after market bar end weights.These are really nice grips that make a world of difference, and are still not too large in diameter like many other comfort type grips on the market. They come in a gray and black or all black as shown.

NOTE: Some throttle sleeves may have a plastic ring attached that will need to be trimmed off to install new grips. Grips should always be glued in place.

| | | |
| --- | --- | --- |
| Description | Part # | Price |
| All Black | 17-7932 | $16.79 / set |

All orders plus shipping - Prices subject to change without notice