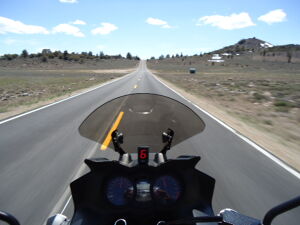 Dale has teamed up with Heal Tech Electronics to come up with his own DL 650 / 1000 gear indicator kit with custom mounting bracket and built in ATRE. The complete plug-in kit can be installed in about 1 to 2 hours taking your time with normal hand tools


Features include:
Advanced "smart" timing retard eliminator TRE feature automatically switches off when bike is in neutral means smoother idle and less engine heat

Can be set for 4th, 5th or 6th gear map (or disabled) at the touch of a button, this adds throttle response in the lower gears on most models and a bit smoother running or vise versa if a bike comes from the factory more restricted in the upper two gears
Auto brightness control: the sensitivity can be even fine tuned, the Holeshot DL kit comes with digital Red lettering as shown
Always indicates the selected gear. It's not like others which don't work when the clutch is pulled in

Selected gears are shown instantly with NO LAG
Plug-n-go... wiring Installation is straight forward, so no more guessing what gear your in. Note! some simple dash mods are needed for bracket mounting
Auto Stand-by: when ignition is turned off, unit enters into low power mode and consumes 3mA only (less than a LED)
Auto Learn function: Unit is pre-programmed to suit most Suzuki's. However, if needed, the unit Learns the gear positions automatically
Robust design: waterproof housing; Flash memory (non-volatile) to store user settings; in case of connection or power failure, the TRE mode reverts back to Normal operation
Dale's own custom black powder coated V Strom mounting bracket looks factory when finished

2 year replacement warranty
Click here to view photo installation tip page.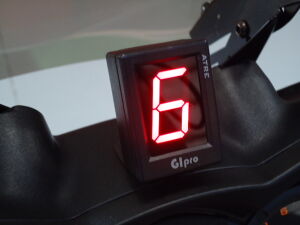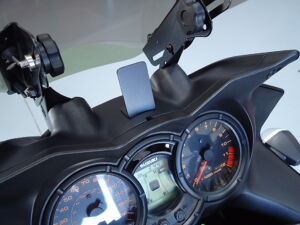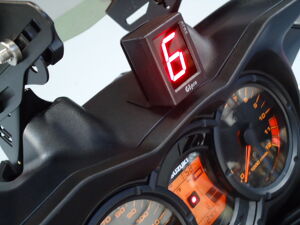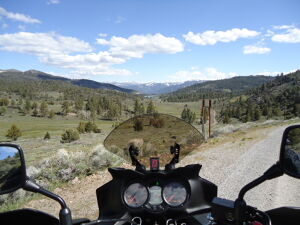 Holeshot DL 650 / 1000 GI Pro Gear Indicator Kit
| | | |
| --- | --- | --- |
| Description | Part # | Price |
| DL 650 GI Pro Indicator Kit | DL650-GIPK | $197.00/each |
| DL 650 GI Pro Indicator Kit | DL1000-GIPK | $197.00/each |
All orders plus shipping - Prices subject to change without notice
These are a non-returnable item!