NOTE: This product is not legal, for sale or use on California vehicles!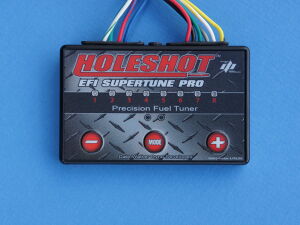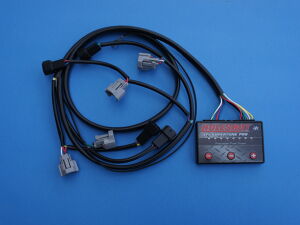 After nearly six months, and hundreds of hours dyno / road testing, Dale's Holeshot EFI Supertune Pro is now ready for the 2016 + GSX-S1000/F models. The new EFI Holeshot Supertune Pro is a one of a kind tuning box, re-flashed to Dale's exclusive fuel curve parameters by Dobeck Performance. Dale's main goal was not only to make power and torque gains, but to vastly improve the on/off throttle glitch the GSX suffers from off the show room floor. His stage 1 (slip-on tune) and stage 2 (full header system tune ) gets rid of 85% to 90% of the throttle glitch. The G2 Throttle Tamer is also highly recommended to complete this package!
Dale pre sets every Holeshot Supertune Pro for your chosen tune, and exhaust combination to make it truly as close to a plug and play as possible. You can expect much better throttle response, big power and toque gains along with good fuel economy at cruise.
Dale's Supertune Pro stage 1 tune along with K&N filter, and the Holeshot 10" Bad Boy Comp 2 slip-on makes up to 9 rear wheel HP, with big torque gains.
Dale's Supertune Pro stage 2 tune along with K&N filter, and the Holeshot 10" Bad Boy Comp 2 slip-on, Arrow Race Header combo makes up to 16 rear wheel HP, with bigger torque gains.
The more subtle Holeshot 14" street core slip-on is only about 1 to 1.5 HP down from the Comp 2 core, so is not noticeable seat of the pants.
Click Here to view installation photos and tips!
GSX-S1000/F Holeshot Throttle Snatch Fix
Dale's Dyno Charts Review Video:
Stock Bike vs Holeshot Slip-On w/ Tune
vs Arrow Race Header w/ Tune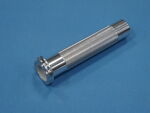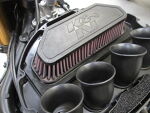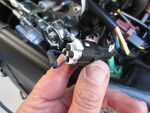 Features Include:
No computer needed or dyno required
Plug and play easy installation
Uses unique load base technology
Offers full range air/fuel tunability - adds and removes fuel
Does not interfere with stock ECU operation
Simple push button mode adjustment interface
Water-Resistant
Supertune pro tuner has a 2 year Dobeck warranty from the original purchase date, customer is responsible for all warranty shipping costs.
Holeshot 02 Bypass, K&N filter are required, and G2 Throttle tamer is highly recommended by Dale also for this application. These are sold separately!
Holeshot EFI Supertune Pro Tuner for Suzuki GSX-S1000/F
| | | |
| --- | --- | --- |
| Description | Part # | Price |
| EFI Supertune Pro Tuner | GSX1-STP | $277.00 / each |
| O2 Bypass | OX-007 | $15.00 / each |
| K&N Air Filter | SU-9915 | $69.95 / each |
| G2 Throttle Tamer | G2TT-S | $79.95 / each |
All orders plus shipping - Prices subject to change without notice
These are a non-returnable item!
K&N Recharger Air Filter Service Kit

The K&N Recharger cleaning kit includes the 12 oz bottle of air filter cleaner and the 6.5 oz air filter oil spray. This is the best way to go for cleaning and maintaining your K&N air filters. Doing so will make them last and last, keep the carbs or injectors cleaner and offer the best performance.

| | | |
| --- | --- | --- |
| Description | Part # | Price |
| K&N Recharger Kit | 99-5000 | $19.95 / each |

All orders plus shipping - Prices subject to change without notice