NOTE: This product is not legal, for sale or use on California vehicles!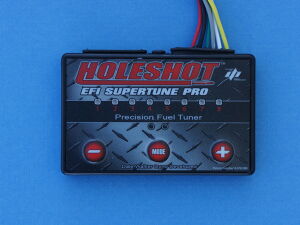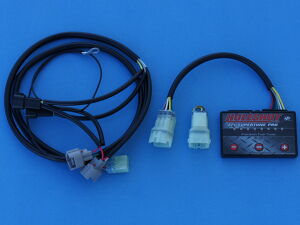 After 5 months of working with Dobeck Performance, and hundreds of hours dyno / road testing, Dale's Holeshot EFI Supertune Pro Tuner is now ready for the new 2017+ SV-650. The new Holeshot Supertune Pro is a one of a kind EFI tuning box, re-flashed to Dales exclusive fuel curve parameters. The kit also includes a sub harness bypass plug for easy removable of the tuning box if diagnostic is ever needed. The K&N high flow air filter is also required and is sold separately.
Dale's Stage 1 tune (Slip-on) or Stage 2 tune (Full system) runs flawlessly, still delivers great fuel mileage under normal conditions, and makes some huge power and torque gains in the usable part of the power curve. A minor air box mod is required as part of his tune ups. With the full system installed the bike pulls hard, clear past 10K RPM!
Dale pre sets every Holeshot Supertune Pro for our customers so its a true plug and play install.
Features include:
No computer needed or dyno required
Dale has done all the work for you
Plug and play easy installation
Uses unique load base technology
Offers full range air / fuel tunability - adds and removes fuel, does not interfere with stock ECU operation
Simple push button mode adjustment interface
Water-resistant
2 year Dobeck warranty from the original purchase date.
Click here to view the how to installation photo tip page.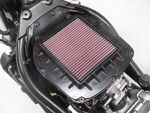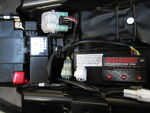 2017 SV-650 Dyno Chart Tune Review
2017 SV-650 Holeshot Slip-On & Arrow Header
Dyno Review
Holeshot EFI Supertune Pro Tuner for Suzuki SV-650 (2017+)
| | | |
| --- | --- | --- |
| Description | Part # | Price |
| EFI Supertune Pro | SV-65017-STP | $273.00 / each |
| K&N Air Filter | SU-6509 | $58.00 / each |
All orders plus shipping - Prices subject to change without notice
These are a non-returnable item!
K&N Recharger Air Filter Service Kit

The K&N Recharger cleaning kit includes the 12 oz bottle of air filter cleaner and the 6.5 oz air filter oil spray. This is the best way to go for cleaning and maintaining your K&N air filters. Doing so will make them last and last, keep the carbs or injectors cleaner and offer the best performance.

| | | |
| --- | --- | --- |
| Description | Part # | Price |
| K&N Recharger Kit | 99-5000 | $19.95 / each |

All orders plus shipping - Prices subject to change without notice