NOTE: This product is not legal, for sale or use on California vehicles!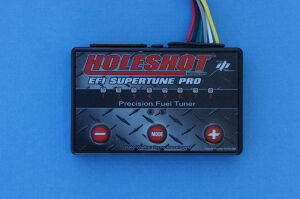 After nearly a year of working with Dobeck Performance, dyno and road testing, Dale's Holeshot EFI Supertune Pro is now ready for the FZ8. As you may know in stock form the FZ8 is so lean it has a hard time just driving off from a dead stop. Dale's Supertune Pro stage one tune offers substantial performance gains, better throttle response, and much smoother running when combined with a Holeshot slip-on exhaust. Dale pre-sets every Supertune Pro to make it as close to a plug and play as possible for our customers, so very little if any adjustments should be needed.
Features include:
No computer needed or dyno required.
Plug and play easy installation.
Uses unique load base technology
Offers full range air / fuel tunability - adds and removes fuel
Does not interfere with stock ECU operation
Simple push button mode adjustment interface
Water-resistant
It also comes with rubber plug to block off AIS to help eliminate decel popping when exhaust is installed.
The Holeshot EFI Supertune Pro is made by Dobeck Performance but is not an off the shelf item. Instead its flashed to Dales tuning parameters and is a Holeshot Performance exclusive product. It comes with a 2 year warranty from the original purchase date.
Dales stage one tune up also consist of adding a K&N Air Filter and a 1" hole air box modification.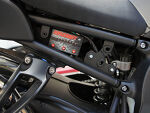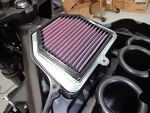 NOTE: The K&N Air filter and our O2 bypass is required to run with the EFI Holeshot Supertune Pro installation!
Click Here to view Installation / Photo Tips.
Click Here to view Dyno Charts.
Holeshot EFI Supertune Pro Tuner for Yamaha FZ8
| | | |
| --- | --- | --- |
| Description | Part # | Price |
| EFI Supertune Pro Tuner | FZ8-STP | $277.00 / each |
| K&N Air Filter | YA-1006 | $67.95 / each |
All orders plus shipping - Prices subject to change without notice
K&N Recharger Air Filter Service Kit

The K&N Recharger cleaning kit includes the 12 oz bottle of air filter cleaner and the 6.5oz air filter oil spray. This is the best way to go for cleaning and maintaining your K&N air filters. Doing so will make them last and last, keep the carbs or injectors cleaner and offer the best performance.

| | | |
| --- | --- | --- |
| Description | Part # | Price |
| Air Filter Service Kit | 99-5000 | $19.95 / each |

All orders plus shipping - Prices subject to change without notice