NOTE: This product is not legal, for sale or use on California vehicles!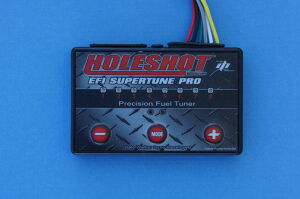 After nearly a year of working with Dobeck Performance, and hundreds of hours dyno / road testing, Dale's Holeshot EFI Supertune Pro is now ready for the Bandit 1250/FA models. As you may know Dale has used the EFI Supertune tuner for many years with great results, but as you also may know he is always testing and striving for perfection behind the scenes. The new EFI Holeshot Supertune Pro is a one of a kind tuning box, re-flashed to Dale's exclusive fuel curve parameters.
The Holeshot Supertune Pro along with Holeshot slip-on or full exhaust actually beat his previous personal best HP numbers from 3 to 4 HP, and along with his updated stage 2 tune he was able to out smart the ECU and accomplish nearly a perfect curve up top, getting rid of the slight dip we have always seen on the dyno gragh. Dale pre sets every Holeshot Supertune Pro for your chosen tune up, and exhaust combination making it as close to a plug and play as possible for our customers. This means very little if any adjustments should be needed. Not only will you get some big power and torque gains, but the bike will be much smoother with great throttle response, and still get good fuel mileage.
Features include: No computer needed or dyno required, plug and play easy installation, uses unique load base technology, offers full range air/fuel tunability - adds and removes fuel, does not interfere with stock ECU operation, simple push button mode adjustment interface, water-resistant. The kit also comes with rubber plug to block off the AIS, which helps eliminate deceleration popping, though we feel our PAIR removal kit is the best way to go. The Supertune pro tuner has a 2 year Dobeck warranty from the original purchase date, customer is responsible for all warranty shipping costs.
Tune Descriptions
Stage 1 with Slip-On or Stock Muffler
Minor air box mod, K&N air filter with Dales matching dyno tune
Stage 2 with Slip-On or Full System
Rear air box cover totally opened up, K&N air filter along with throttle body secondary butterflies removed, with Dales matching dyno tune
NOTE: The K&N Air filter and our O2 bypass is required to run with the EFI Holeshot Supertune Pro installation!
Click Here to view Stage 1 installation photo tip page.
Click Here to view Stage 2 installation photo tip page.
Click Here to view Stage 2 installation photo tip page on how to remove the throttle body secondary butterflies.
Click Here to view Dale's how to sync the throttle bodies, on Maximum Suzuki forum thread. (you may have to register to view)
Click Here to view Dale's before and after dyno charts.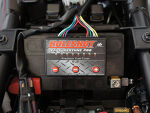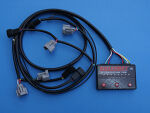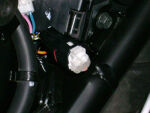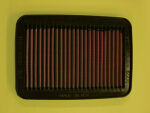 Holeshot EFI Supertune Pro Tuning Box for Bandit 1250/FA
| | | |
| --- | --- | --- |
| Description | Part # | Price |
| EFI Supertune Pro | B1250-STP | $277.00 / each |
| B1250 O2 Bypass Module | 0X-007 | $15.00 / each |
| B1250 K&N High-Flow Air Filter | SU-6000 | $52.99 / each |
All orders plus shipping - Prices subject to change without notice
K&N Recharger Air Filter Service Kit

The K&N Recharger cleaning kit includes the 12 oz bottle of air filter cleaner and the 6.5oz air filter oil spray. This is the best way to go for cleaning and maintaining your K&N air filters. Doing so will make them last and last, keep the carbs or injectors cleaner and offer the best performance.

| | |
| --- | --- |
| Part # | Price |
| 99-5000 | $19.95 / each |

All orders plus shipping - Prices subject to change without notice